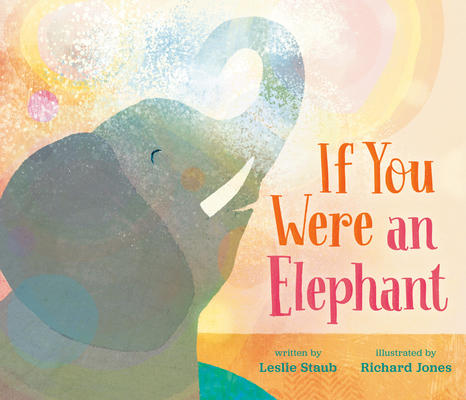 Staff Reviews
---
Make believe comes alive when you begin to imagine what it would be like if you were an elephant. You might remember the best places to go, or how to splash fountains of water over your back, creating a rainbow of joy. This timely and beautiful children's book explores the complexity and compassion of these enormous and enormously fascinating creatures. Beautifully simple and compelling illustrations complete this gem.
— From
IF YOU WERE AN ELEPHANT (Leslie Staub)
Description
---
A charming and exuberant nonfiction picture book about a young elephant's day on the savanna with her herd.

If you were an elephant, you'd be the biggest animal who lives on the land. You'd have ears big as tent flaps, skin thick as blankets. You'd turn the next page with your trunk, not your hand.

Chock-full of amazing facts, this joyful read aloud invites readers to follow in the (enormous) footsteps of one of the world's most remarkable creatures--from munching on bushes and branches all day, to splashing around in water holes and mud baths, to finally curling up with the herd in a pool of moonlight. Kids will love every moment of this playful introduction to the daily sights, sounds, and activities of a young elephant in the wild.
About the Author
---
Leslie Staub is a children's book author and illustrator from New Orleans, Louisiana. She illustrated Whoever You Are by Mem Fox, Mama's Nightingale: A Story of Immigration and Separation by Edwidge Danticat, and Lives: Poems About Famous Americans by Lee Bennett Hopkins. She has also written several books for children, including Shine, Baby, Shine and Bedtime for Beasties, among others.

Richard Jones is the author and illustrator of Perdu, and has illustrated many books for children, including Winter Dance by Marion Dane Bauer, Whale in a Fishbowl by Troy Howell, and The Snow Lion by Jim Helmore. He lives in Exeter, England. Visit him online at paintedmouse.com. Follow him on Instagram @apaintedmouse.
Praise For…
---
Praise for If You Were an Elephant:

A Bank Street Best Children's Book of the Year

* "Engaging and full of whimsical imagery . . . Readers learn about other animals of the savanna, herd behaviors, diet, mud baths, and more—along with a plethora of varied verbs and adjectives. The layout and artwork complement the text perfectly . . . Good as a read-aloud and for emergent readers, it concludes in a way that leads equally gracefully to the author's notes or bedtime." —Kirkus Reviews, starred review

"Delightful . . . Beautifully illustrated by Jones in a highly textured style that calls to mind the friendly, simplified shapes of Eric Carle's collages, all in an appropriately golden palette of natural tones . . . There's plenty little ones can grasp from this book's winsome lines and genial artwork." —Booklist

"Inviting . . . Exuberant . . . Readers will want to keep turning the pages of this engaging and informative picture book." —The Horn Book