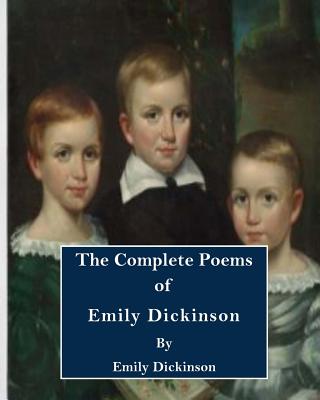 $13.74
Email or call for price.
Description
---
The Complete Poems of Emily Dickinson by Emily Dickinson - Edited by two of her friends Mabel Loomis Todd and T.W. Higginson - The verses of Emily Dickinson belong emphatically to what Emerson long since called "the Poetry of the Portfolio,"-something produced absolutely without the thought of publication, and solely by way of expression of the writer's own mind. Such verse must inevitably forfeit whatever advantage lies in the discipline of public criticism and the enforced conformity to accepted ways. On the other hand, it may often gain something through the habit of freedom and the unconventional utterance of daring thoughts. In the case of the present author, there was absolutely no choice in the matter; she must write thus, or not at all. A recluse by temperament and habit, literally spending years without setting her foot beyond the doorstep, and many more years during which her walks were strictly limited to her father's grounds, she habitually concealed her mind, like her person, from all but a very few friends; and it was with great difficulty that she was persuaded to print, during her lifetime, three or four poems. Yet she wrote verses in great abundance; and though brought curiously indifferent to all conventional rules, had yet a rigorous literary standard of her own, and often altered a word many times to suit an ear which had its own tenacious fastidiousness.
About the Author
---
The Complete Poems of Emily Dickinson by Emily Dickinson - Edited by two of her friends Mabel Loomis Todd and T.W. Higginson - Emily Elizabeth Dickinson (December 10, 1830 - May 15, 1886) was an American poet. Born in Amherst, Massachusetts, to a successful family with strong community ties, she lived a mostly introverted and reclusive life. After she studied at the Amherst Academy for seven years in her youth, she spent a short time at Mount Holyoke Female Seminary before returning to her family's house in Amherst. Considered an eccentric by the locals, she became known for her penchant for white clothing and her reluctance to greet guests or, later in life, even leave her room. Most of her friendships were therefore carried out by correspondence. While Dickinson was a prolific private poet, fewer than a dozen of her nearly 1,800 poems were published during her lifetime. The work that was published during her lifetime was usually altered significantly by the publishers to fit the conventional poetic rules of the time. Dickinson's poems are unique for the era in which she wrote; they contain short lines, typically lack titles, and often use slant rhyme as well as unconventional capitalization and punctuation. Many of her poems deal with themes of death and immortality, two recurring topics in letters to her friends.