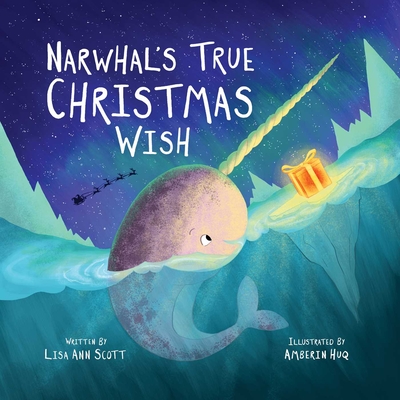 $16.99
Out of Stock Indefinitely
Description
---
Nigel Narwhal wants to be one of Santa's helpers more than anything, but thinks only elves and reindeer can do that. But when Santa loses someone's special gift—their True Christmas Wish—can Nigel help him deliver it and save Christmas? 

Dive undersea at the North Pole to meet a world of fun animals celebrating Christmas and experience the joy of making holiday wishes come true in this important story about high hopes, big dreams, generosity, and never giving up!

It's Christmas Eve, and as Nigel Narwhal watches Santa get ready to deliver all his gifts, he wishes he could be one of Santa's helpers, even though all his friends tell him sea creatures can't. Yet when Santa takes off in his sleigh, he drops a special package containing someone's True Christmas Wish. It seems someone's Christmas will be disappointing—until Nigel steps up to save the day! With encouragement from Mrs. Claus and the help of some ocean friends, Nigel races to deliver the present before it's too late. And if he succeeds, he just might get his own True Christmas Wish, too . . .
 
In Narwhal's True Christmas Wish, Lisa Ann Scott's fun, playful story and Amberin Huq's cute and colorful illustrations help young readers understand the beauty of giving gifts and being kind and generous, as everyone should on Christmas!
About the Author
---
Lisa Ann Scott is a former TV news producer, reporter, and anchor who currently works as a voiceover artist when she isn't busy writing. She lives in upstate New York with her husband and two kids. HarperCollins published her first middle grade novel, School of Charm, in 2014. She has another middle grade novel titled Back on the Map, which was published by Sky Pony Press in 2017, and her early chapter book series, Enchanted Pony Academy, The Wish Fairy, and Mermaids to the Rescue are all published by Scholastic.

Amberin Huq is an illustrator living and working just outside of London. She has been drawing for all different types of clients including publishers, children's theatres, and magazines. Most of the time you can find her scribbling away at her desk, where she has been creating work for children of all ages. When she is not drawing she is dreaming of writing her own children's books.