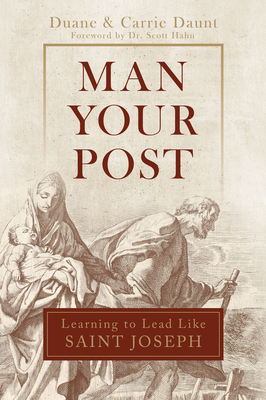 Description
---
In a generation plagued by fatherlessness, fear, and indecision, men
need
a mentor. They need a man who models masculine strength and understands his God-given duty to lay down his life for his family, to provide for their every need, to protect them, to exemplify a life of virtue. St. Joseph is that man.
Man Your Post: Learning to Lead like St. Joseph
is a mission entrusted to you by a company of Catholic men who have faced challenges and found strength through the intercession of the head of the Holy Family, the man who provided for Jesus and Mary during their earthly lives and protected them on harrowing journeys as they fled from danger and battled the forces of this world. By embarking on a tour of the Litany of St. Joseph, each chapter explores the power and freedom virtue brings to the lives of ordinary men trying to lead their families to heaven, virtues like justice, chastity, prudence, fortitude, faithfulness, and others. Included are powerful testimonies and reflections from:
a five-time Major League Baseball All-star
a priest
a worship leader
a family physician
a marriage and family counselor
a New York Times Bestselling Author
and other Catholic leaders, husbands, and fathers
With a foreword by Dr. Scott Hahn,
Man Your Post
is an invitation to join your band of brothers as you carry out the mission God has entrusted to you. Answer the call. Join the mission. Man your post.
About the Author
---
Duane and Carrie established Team Daunt in 1999 when they were married in the Church. They are the parents of eight energetic children and reside in Tallahassee, Florida. They are blessed with a thriving community of faithful family and friends. Duane and Carrie work with the John Paul II Healing Center. In addition to his work in business development for a large software company, Duane is a business consultant for the Center. Carrie is a content developer and speaker for the Center's Undone women's conferences, a prayer minister for the Healing the Whole Person events, and a co-presenter with the Unveiled marriage conference. Carrie is also the author of Undone: Freeing Your Feminine Heart from the Knots of Fear and Shame. Together they enjoy spending time as a family and watching all of their kids play soccer. They have been involved in marriage ministry and presented locally and nationally at different events and conferences over the last twenty-one years. With a devotion to the Holy Family, they are thrilled to launch this new Man Your Post mission to help restore masculinity through the holy example of St. Joseph.