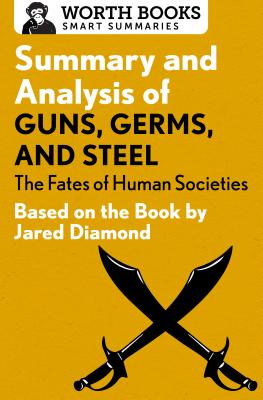 Description
---
So much to read, so little time? This brief overview of Guns, Germs, and Steel tells you what you need to know--before or after you read Jared Diamond's book.

Crafted and edited with care, Worth Books set the standard for quality and give you the tools you need to be a well-informed reader.

This short summary and analysis of Guns, Germs, and Steel by Jared Diamond includes:

Historical context
Chapter-by-chapter summaries
Detailed timeline of key events
Important quotes
Fascinating trivia
Glossary of terms
Supporting material to enhance your understanding of the original work

About Guns, Germs, and Steel by Jared Diamond:

Professor Jared Diamond's informative and fascinating Pulitzer Prize-winning Guns, Germs, and Steel explores a historic question: Why were the Eurasian peoples able to dominate those from other lands?

Diamond argues that it was ecology and geography--not race--that shaped the modern world. Societies that developed in regions with fertile land for farming and that had domesticable plants and animals were able to progress more quickly, thereby creating the tools to conquer preliterate cultures.

Drawing on a variety of disciplines--from linguistics, genetics, and epidemiology to biology, anthropology, and technology--Guns, Germs, and Steel offers an eloquently argued view of the development of human societies.

The summary and analysis in this book are intended to complement your reading experience and bring you closer to a great work of nonfiction.
About the Author
---
Worth Books' smart summaries get straight to the point and provide essential tools to help you be an informed reader in a busy world, whether you're browsing for new discoveries, managing your to-read list for work or school, or simply deepening your knowledge. Available for fiction and nonfiction titles, these are the book summaries that are worth your time.