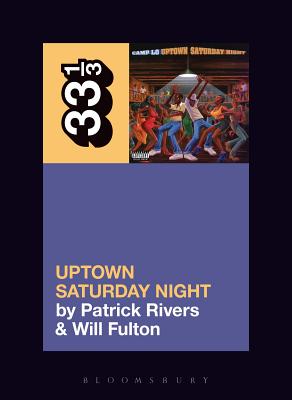 Description
---
Geechi Suede and Sonny Cheeba are Camp Lo. These two emcees from the Bronx, NY entered the American hip hop scene with an insider slang that bewildered listeners as they radiated the look of a bygone era of black culture. In 1996, they collaborated with producer Ski and a host of other contributors to create Uptown Saturday Night, featuring the seminal single "Luchini (a.k.a. This is It)." While other 1990s rappers referred to 1970s Blaxploitation culture, Camp Lo were self-described "time travelers" who weaved the slang and style of a soulful past into state-of-the-art lyrical flows.
Uptown Saturday Night
is a tapestry of 1970s black popular culture and 1990s New York City hip hop. This volume will detail how the album's fantastic world of "Coolie High" reflected classic films like
Cooley High
and the Sidney Poitier film from which the album's title is derived, and promoted vintage slang and fashion. The book features new interviews with Camp Lo, producer Ski, Trugoy the Dove from De La Soul, Ish from Digable Planets, and others, and offers musical and cultural analyses that detail the development of the album and its essential contributions to a post-soul aesthetic.
About the Author
---
Patrick Rivers is an ethnomusicologist and an Assistant Professor of Music at the University of New Haven, USA. Will Fulton is an Associate Professor of Music at LaGuardia Community College, CUNY, USA.