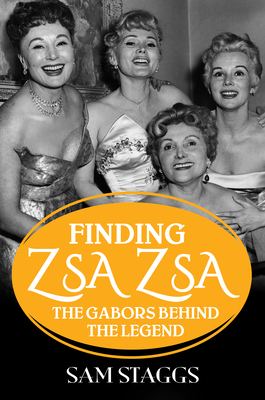 $28.60
Currently Out of Stock - No ETA
Description
---
For decades, the Gabor dynasty was the epitome of glamour and fairy tale success. But as biographer, film historian, and Gabor family friend Sam Staggs reveals, behind the headlines is a true story more dramatic, fabulous, and surprising than their self-styled legend would have you believe . . .

In 1945, after barely escaping Hitler's invasion of Hungary followed by "liberation" of the country by the Red Army, three members of the Gabor family—Jolie, her ex-husband Vilmos, and their daughter Magda—arrived in New York City. In Hollywood, their other daughters,
Zsa Zsa and Eva, had worked feverishly throughout the war years to secure their rescue from the Nazis' plan to exterminate the Jews. Stepping off the boat, Jolie, the iron-willed matriarch, already had a golden future mapped out for her sharp-witted, cosmopolitan beauties.
 
Over the next six decades, with twenty-three husbands between them (suave All About Eve star George Sanders would wed both Zsa Zsa and Magda), scores of lovers, and roller-coaster rides in film, television, theater, and business, the elegant yet gloriously bawdy, addictively watchable Gabors carved a niche in the entertainment industry that made them world-famous pop-culture icons. But beneath the artifice of Dior and diamonds was another side to the story they never revealed: the whole truth.
 
This first verifiable history of the Gabors casts a startling new light on these extraordinary women. Finding Zsa Zsa reveals the tumultuous and often unforgiven battles between mother and daughter, sister and sister, wife and husband; Eva's "bearded" romance with Merv Griffin that allowed them both to seek same-sex lovers; Zsa Zsa's involuntary confinement in a mental hospital; her life-long struggle with bipolar disorder; and her last—unconsummated—marriage to the manipulating faux prince Frederic von Anhalt. Here too is the untold story of Zsa Zsa's daughter, Francesca Hilton, a gifted photographer who eschewed the Gabor lifestyle and paid a sad price for her independence. The story of family patriarch Vilmos Gabor, who returned to Hungary only to be trapped behind the Iron Curtain, reads like a Cold War spy thriller.
 
Culled from new interviews with family, colleagues, and confidantes, and the unpublished memoirs of the author's friend Francesca Hilton, Finding Zsa Zsa finally introduces fans to the Gabor family they never knew, including many never-before-seen photos. It's a riveting, outrageously funny, bittersweet, and affectionately honest read of four women who were vulnerable, tough, charitable, endlessly fascinating, and always glamorous to a fault.
About the Author
---
Sam Staggs is the author of six books, including four biographies of movies: All About "All About Eve"; Close-up on "Sunset Boulevard"; When Blanche Met Brando: The Scandalous Story of "A Streetcar Named Desire"; and Born to Be Hurt: The Untold Story of "Imitation of Life." He has written for publications including Vanity Fair, Architectural Digest, and Opera News. He lives in Dallas, Texas.
Praise For…
---
Advance praise for Sam Staggs and Finding Zsa Zsa

"Pop culture buffs will just adore this penthouse view of the Gabors."
—Publishers Weekly
 
"A colorful history of the glamorous pop-culture icons."
—Kirkus

"The Gabors—Zsa Zsa, Eva, Magda and Mama Jolie—invented modern celebrity. But don't go thinking they're simply early Kardashians. The Gabors worked hard for their fame—in movies, television, and stage productions—and in the public eye, always elegantly turned out and scattering bon mots like diamonds. Sam Staggs has revealed a group of women who were witty, resourceful and most all, intelligent."
—William J. Mann, author of The Contender: The Story of Marlon Brando
 
"Sam Staggs' Finding Zsa Zsa is a meticulously researched and always surprising history of four beautiful and shrewd women who cut a wide swath through Broadway, Film, Television and Cafe Society.  Much like his glamorous subjects, Sam Staggs gives his story a witty, breezy style that is delightful and entertaining but tough minded and impossible to resist."
—Charles Busch, Actor and playwright, Vampire Lesbians of Sodom and The Tale of the Allergist's Wife
 
"What an incredible tale of an incredible life, and what a kind soul Zsa Zsa was! I remember the moment she rejected all those furs that we both grew up thinking were desirable and then found out were despicable."
—Ingrid Newkirk, President of PETA

"Tumultuous, passionate, and unapologetic, it's a loving look at the family that was equal parts allure and notoriety." 
—Discover Hollywood

"Rollicking and gossip-filled…. Staggs creates an engaging and fascinating family saga filled with fresh insights from newly conducted interviews. He also corrects lore spread through fanciful memoirs written by all four Gabors. This is a big, irresistible beach read. Staggs's delicious gossip-fest gives the Gabor sisters respect while also enjoying their outrageous tabloid antics and love affairs." 
—Shelf Awareness