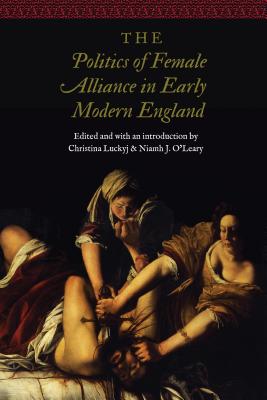 $70.00

NOT IN STOCK - Usually arrives in 7 - 14 business days
Description
---
2018 Best Collaborative Project from the Society for the Study of Early Modern Women

In the last thirty years scholarship has increasingly engaged the topic of women's alliances in early modern Europe. The Politics of Female Alliance in Early Modern England expands our knowledge of yet another facet of female alliance: the political. Archival discoveries as well as new work on politics and law help shape this work as a timely reevaluation of the nature and extent of women's political alliances.
Grouped into three sections—domestic, court, and kinship alliances—these essays investigate historical documents, drama, and poetry, insisting that female alliances, much like male friendship discourse, had political meaning in early modern England. Offering new perspectives on female authors such as the Cavendish sisters, Anne Clifford, Aemilia Lanyer, and Katherine Philips, as well as on male-authored texts such as Romeo and Juliet, The Winter's Tale, Swetnam the Woman-Hater, and The Maid's Tragedy, the essays bring both familiar and unfamiliar texts into conversation about the political potential of female alliances.
Some contributors are skeptical about allied women's political power, while others suggest that such female communities had considerable potential to contain, maintain, or subvert political hierarchies. A wide variety of approaches to the political are represented in the volume and the scope will make it appealing to a broad audience.
About the Author
---
Christina Luckyj is a professor of English, gender, and women's studies at Dalhousie University. She is the author of "A Moving Rhetoricke": Gender and Silence in Early Modern England and The Duchess of Malfi: A Critical Guide. Niamh J. O'Leary is an associate professor of English at Xavier University.

 
Praise For…
---
"This volume is more than a collection; it is itself a conversation about where early modern feminist scholarship might "go" next. These chapters perform an extraordinary service, each in its own special expertise, embracing dramatic and poetic performance, the sociology of both collective labor and disruptive competition."—Naomi Conn Liebler, Early Modern Women: An Introductory Journal

"An excellent exploration of the ways that politics—writ large—resonated and were represented in literary and dramatic productions in early modern England. Together the authors make a compelling case that the political dimensions of women's alliances are deserving of more scholarly attention, as they figured largely in the intellectual and cultural worlds of the period and as they have been, up to this point, underexplored by scholars."—Amanda Herbert, assistant director at the Folger Institute and author of Female Alliances: Gender, Identity, and Friendship in Early Modern Britain