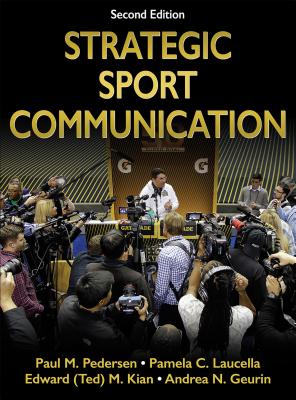 Description
---
Strategic Sport Communication, Second Edition, explores the sport industry's exciting and multifaceted segment of sport communication. With communication theory, sport literature, and insight from the industry's leading professionals, the text presents a standard framework that introduces readers to the many ways in which individuals, media outlets, and sport organizations work to create, disseminate, and manage messages to their constituents.
The team of international authors has drawn on its extensive practical, academic, and leadership experiences to update and revitalize this second edition of Strategic Sport Communication. Using the industry-defining standard of the Strategic Sport Communication Model (SSCM), the text explores sport communication in depth and then frames the three major components of the field: personal and organizational communication, sport media, and sport communication services and support. Readers will discover how each aspect of this segment of the sport industry is integral to the management, marketing, and operational goals at all levels of sport organizations.
The second edition includes the following enhancements:
• A new, expanded chapter titled Integrated Marketing Communication in Sport allows students to explore modern marketing strategy.
• Substantial updates and new information on multiple social media platforms throughout the book elucidate the latest trends.
• "Sport Communication at Work" sidebars and "Profile of a Sport Communicator" features apply topics and theoretical concepts to real-world situations.
• Key terms, learning objectives, and chapter wrap-ups with review questions, discussion questions, and individual exercises keep readers engaged and focused.
• An expanded ancillary package provides tools for instructors to use in course preparation and presentation.
The content is complemented by photos throughout and organized in an easy-to-read style. Part I of the book introduces sport communication by defining the scope of study, examining roles and functions of sport communication professionals, and looking at the history and growth of the field. Part II dives into the SSCM, which provides a macro-view of the three main components of communication in sport. This section also addresses digital and mobile communications, public relations and crisis communication, and sport research. Part III addresses sociocultural issues and legal aspects of sport communication, including culture, gender, sex, race, ethnicity, and politics. Throughout the text, individual exercises, group activities, review questions, and discussion questions promote comprehension for a variety of learning styles.
With Strategic Sport Communication, Second Edition, readers will be introduced to the vast and varied field of sport communication. The framework of the SSCM prepares readers with foundational and theoretical knowledge so they are able to understand the workings of, and ultimately contribute to, the rapidly growing field of sport communication.
About the Author
---
Paul M. Pedersen, PhD, professor and director of sport management at Indiana University, has published several books, including Contemporary Sport Management (5th edition, 2014), Routledge Handbook of Sport Communication (2015), Communication and the Korean Sport Industry (2012), and Research Methods and Design in Sport Management (2011). He is also the author of more than 90 articles in peer-reviewed academic outlets, such as the Journal of Sport Management, Communication & Sport, European Sport Management Quarterly, the Journal of Sports Media, Sport Marketing Quarterly, and the Journal of Sports Economics. Inducted as a North American Society for Sport Management research fellow in 2009, Pedersen has participated in more than 80 refereed presentations at professional conferences and an additional 50 invited presentations in locations around the world, including Hungary, Norway, Denmark, South Korea, and China.
In addition to his roles as founding editor of the International Journal of Sport Communication and editorial board member of nine other academic journals, he is a former sportswriter and sport business columnist whose primary scholarly interest lies at the intersection of communication and management in the sport industry. Pedersen is an inductee to the Golden Eagle Hall of Fame (East High School, Pueblo, Colorado). He received his PhD from Florida State University and now lives in Bloomington with his wife Jennifer and two of their children, Brock and Carlie. His two oldest children, Hallie and Zack, are undergraduate students at Indiana University.
Pamela C. Laucella, PhD, is an associate professor of journalism, specializing in sports journalism, at Indiana University-Purdue University Indianapolis (IUPUI). She earned her PhD in journalism and mass communication from the University of North Carolina at Chapel Hill, where she was a Park Fellow. She also earned degrees from The George Washington University and the University of Virginia. Before coming to IUPUI, Laucella was an assistant professor of sport communication at Indiana University and an assistant professor in communication studies at Christopher Newport University. She was also academic director of the National Sports Journalism Center and, along with the former director, helped create and develop the first sports journalism graduate program in the United States. She is currently academic director of the Sports Capital Journalism Program and directs the academic side of the sports journalism graduate program. Laucella's research analyzes multicultural issues in sport communication, as well as the intersections of race, class, and gender. She also studies diversity and inclusion in media hiring processes and reporters' ethical and professional responsibilities in a multimedia world.
Laucella has presented at numerous professional conferences in journalism, sociology, history, and communication and has published in peer-reviewed national and international journals including Journalism & Mass Communication Quarterly, Journal of Sports Media, and International Journal of Sport Communication. In addition to co-authoring the first and second editions of Strategic Sport Communication, she also wrote Jesse Owens, the Press, and the 1936 Berlin Olympic Games, published by Routledge. She partners with former Black Coaches & Administrators executive director Floyd Keiith on hiring studies of Division I men's basketball and football programs. This research informs industry and promotes diversity, inclusion, and equal opportunity. Outside of IUPUI, Laucella has served as head and vice-head of the Association for Education in Journalism and Mass Communication's Sports Communication Interest Group. She is also active in the North American Society for the Sociology of Sport, the North American Society for Sport History, and the Association for Women in Sports Media. Laucella is originally from Richmond, Virginia, and enjoys hiking with her rescue Labrador Retrievers, doing yoga, playing tennis, and swimming. She also plays the violin, writes creative nonfiction, and roots for her ACC alma maters.
Edward "Ted" M. Kian, PhD, is the Welch-Bridgewater Endowed Chair of Sports Media in the School of Media and Strategic Communications at Oklahoma State University. He earned an undergraduate degree in journalism from the University of Georgia, a master's in sport management from the University of Texas at Austin, and a PhD in sport administration from Florida State University. Previously, he served on the faculty at the University of Central Florida, where he was founding coordinator of the graduate program in sport leadership and coaching and held the rank of tenured associate professor of sport administration. Kian's research focuses on sport media, examining portrayals of gender and LGBT, new media, the attitudes and experiences of sport media members, and the marketing of sport. He has authored more than 75 journal articles, conference papers, and book chapters, and his work has appeared in top journals from a variety of academic disciplines, including the International Journal of Sport Communication, the International Review for the Sociology of Sport, the Journal of Applied Sport Management, the Journal of Broadcasting & Electronic Media, the Journal of Homosexuality, the Journal of Sports Media, Sociology of Sport Journal, and the Women in Sport and Physical Activity Journal. He has also reviewed more than 85 submissions for 23 academic journals as an editorial-board member or ad-hoc reviewer.
Kian's journalism, research, and expertise have been cited by media outlets such as 60 Minutes, the New York Times, Fox Sports, and the Nieman Journalism Lab at Harvard University. He also has 15 years of professional experience in sport communication, working with newspapers, magazines, media relations, websites, and radio while authoring more than 2,000 popular-press articles. His professional positions included three years as a sportswriter and editor for the Los Angeles Newspapers Group, where he was among a team of Long Beach Press-Telegram reporters honored with an Associated Press Sports Editors national award for investigative journalism.
Andrea N. Geurin (née Eagleman), PhD, a senior lecturer of sport management at Griffith University in Australia, has published extensively on the topics of sport communication and marketing with specific focus on media portrayals of athletes with regard to race, gender, or nationality, as well as athletes' and sport organizations' use of social media. Her work has appeared in more than 30 peer-reviewed academic articles in publications such as the Journal of Sport Management, the Sport Management Review, the Sport Marketing Quarterly, the International Journal of Sport Communication, and the International Journal of Sport Management. She has also presented her research at conferences and invited lectures in countries around the world, including the United States, Canada, Mexico, Germany, Spain, Australia, New Zealand, Ireland, and Norway. In 2015, she was named a North American Society of Sport Management (NASSM) research fellow in recognition of her outstanding contributions to the field of sport management. Additionally, she received the NASSM Janet B. Parks Research Grant in 2012 and 2015. Geurin serves on the editorial boards of six academic journals and is a member of the NASSM publicity and promotions committee. She is also a professional member of the International Association for Communication and Sport, the Sport Marketing Association, and the Sport Management Association of Australia and New Zealand.
Geurin is a former sport public relations professional who held positions with USA Gymnastics and the National Hot Rod Association (NHRA) Top Fuel drag-racing team. She has volunteered in media relations roles at a number of national and international sporting events, such as the 2012 U.S. Olympic Team Trials (track and field), 2012 Super Bowl, 2007 USA Track & Field Championships, 2006 NCAA Men's Final Four (basketball), 2003 FIG World Gymnastics Championships, and 2002 FIBA World Basketball Championships. Originally from Mount Vernon, Indiana, Geurin earned her undergraduate degree in journalism from Indiana University, where she also received both her master's degree and her PhD in sport management. She was inducted into the Mount Vernon Senior High School M-Club Athletic Hall of Fame in 2013. She currently lives in Brisbane, Australia, where she enjoys distance running, gymnastics, yoga, traveling, and spending time with her cat, DC.
Praise For…
---
"The authors are to be applauded for collecting a vast amount of information referred to as sport communication and placing it literally at the fingertips of readers."
—International Journal of Sport Communication, Volume 1, 2007 (review of first edition)
"[The authors] have done an admirable job of bringing all the various facets of sport communication and tying them into a comprehensible whole. The result is a text useful for students, instructors and anyone else interested in this growing field."
—Journal of Sports Media, Volume 4, Issue 1, 2009 (review of first edition)
"The combination of theoretical and practical insight makes the textbook distinctive and valuable."
—Journalism and Mass Communication Quarterly, Autumn 2007 (review of first edition)
"Strategic Sport Communication is the most valuable text for North American undergraduate students studying in the areas of sport management and/or mass communication with an interest in sport in order to gain a comprehensive understanding of the emerging discipline of sport communication."
—International Council of Sport Science and Physical Education (review of first edition)