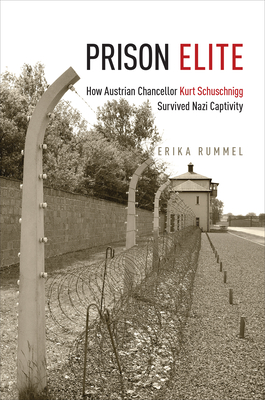 $74.00
Out of Stock Indefinitely
Description
---
After the Anschluss (annexation) in 1938, the Nazis forced Austrian Chancellor Kurt Schuschnigg to resign and kept him imprisoned for seven years, until his rescue by the Allies in 1945. Schuschnigg's privileged position within the concentration camp system allowed him to keep a diary and to write letters which were smuggled out to family members.
Drawing on these records, Prison Elite paints a picture of a little-known aspect of concentration camp history: the life of a VIP prisoner. Schuschnigg, who was a devout Catholic, presents his memoirs as a "confession," expecting absolution for any political missteps and, more specifically, for his dictatorial regime in the 1930s. As Erika Rummel reveals in fascinating detail, his autobiographical writings are frequently unreliable.
Prison Elite describes the strategies Schuschnigg used to survive his captivity emotionally and intellectually. Religion, memory of better days, friendship, books and music, and maintaining a sense of humour allowed him to cope. A comparison with the memoirs of fellow captives reveals these tactics to be universal.
Studying Schuschnigg's writing in the context of contemporary prison memoirs, Prison Elite provides unique insight into the life of a VIP prisoner.