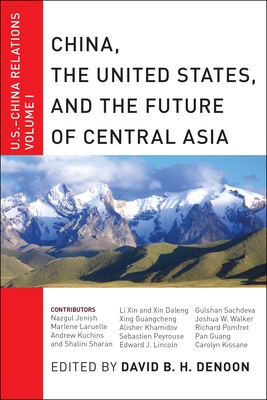 $49.95

NOT IN STOCK - Usually arrives in 7 - 14 business days
Other Books in Series
This is book number 1 in the U.S.-China Relations series.
Description
---
The first of a three-volume series on the interaction of the US and China in different regions of the world, China, the United States, and the Future of Central Asia explores the delicate balance of competing foreign interests in this resource-rich and politically tumultuous region. Editor David Denoon and his internationally renowned set of contributors assess the different objectives and strategies the U.S. and China deploy in the region and examine how the two world powers are indirectly competitive with one another for influence in Central Asia. While the US is focused on maintaining and supporting its military forces in neighboring states, China has its sights on procuring natural resources for its fast-growing economy and preventing the expansion of fundamentalist Islam inside its borders.
This book covers important issues such as the creation of international gas pipelines, the challenges of building crucial transcontinental roadways that must pass through countries facing insurgencies, the efforts of the US and China to encourage and provide better security in the region, and how the Central Asian countries themselves view their role in international politics and the global economy. The book also covers key outside powers with influence in the region; Russia, with its historical ties to the many Central Asian countries that used to belong to the USSR, is perhaps the biggest international presence in the area, and other countries on the region's periphery like Iran, Turkey, Pakistan, and India have a stake in the fortunes and future of Central Asia as well. A comprehensive, original, and up-to-date collection, this book is a wide-ranging look from noted scholars at a vital part of the world which is likely to receive more attention and face greater instability as NATO forces withdraw from Afghanistan.
About the Author
---
David B. H. Denoon is Professor of Politics and Economics at New York University. He is the author of many books, including Real Reciprocity: Balancing U.S. Economic and Security Policies in the Pacific Basin, and The Economic and Strategic Rise of China and India: Asian Realignments after the 1997 Financial Crisis.