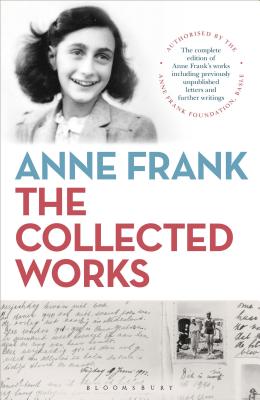 $77.00
Out of Stock Indefinitely
Description
---
The complete, authoritative edition of Anne Frank's writings, including her diary in both the 'A' and 'B' versions now in continuous form, her further writings and important contextual essays

Anne Frank: The Collected Works brings together for the first time Anne's world-famous diary, in both the version edited for publication by her father and the more revealing original, together with her letters, essays and important contextual scholarship. Supported by the Anne Frank Foundation in Basel, Switzerland, set up by Otto Frank to be the guardian of Anne's work, this is a landmark publication marking the anniversary of 90 years since Anne's birth in 1929.

Anne Frank is one of the most recognized and widely read figures of the Second World War. Thousands of people visit the Anne Frank House on the Prinsengracht in Amsterdam each year to see the annex where Anne and her family hid from the Germans before eventually being deported to Auschwitz in 1944. Only Anne's father, Otto, survived the Holocaust.

An essential book for scholars and general readers alike, The Collected Works includes Anne Frank's complete writings, together with important images and documents that tell the wider story of her life. Also included are background essays by notable historians and scholars--including "Anne Frank's Life"; "The History of the Frank Family", "the Publication History of Anne Frank's diary"--and photographs of the Franks and the other occupants of the annex.
About the Author
---
Anne Frank was born in Frankfurt am Main on 12 June 1929 as Annelies Marie Frank, the daughter of Otto and Edith Frank and the younger sister of Margot. She was given a diary as a 13th birthday present and kept it from 12 June 1942 to 1 August 1944, during the period in which she and her family, together with others, hid from anti-jewish Nazi persecution in a small set of rooms above an Amsterdam warehouse. After Anne's arrest and deportation to Auschwitz and later to Bergen-Belsen in 1944, where she would eventually die in early 1945 from typhus, her diary was published by her father, Otto Frank, and became a worldwide bestseller.
Praise For…
---
"A magisterial edition ... one of the virtues of The Collected Works is that it allows readers to track the evolution of the diary across its different incarnations ...
The Complete Works thus gives a greatly enriched picture, and, as one reads its pages, one cannot help thinking of what Anne might have become." —Bart van Es, Author of The Cut Out Girl, Guardian

"An astonishing volume contextualising the significance of writing for Anne's spiritual and practical survival, and inscribing her words in time." —New Statesman

"Reveal[s] the German-born Frank as a complex human being, as much aware of her own flaws as of those around her" —Wall Street Journal

"Anne Frank: The Collected Works includes the original diary as well as a version she edited and an amalgamation of the two, which is commonly taught in American schools. That classroom version, which was edited by the German novelist and translator Mirjam Pressler, was published in 1991. It includes all the original material, such as passages that allude to Anne's emerging sexuality, her conflicted relationship with her mother, Edith, and some criticism of those with whom they shared the "secret annex" in Amsterdam." —Tobias Grey, Wall Street Journal

"Anne Frank's diary still has the ability to shock and inspire...Ninety years after her birth, Anne is more than a child snatched from life too soon. She's become the Jewish saint, the tragic symbol of so much potential lost among the slaughtered millions." —JMore Baltimore Living Magazine

"'Anne Frank: The Collected Works,' [is] a 733-page historical doorstopper that collects everything Anne wrote before her family was found hiding in an office annex in Amsterdam and taken to concentration camps...the book also contains other drafts not previously published for a general audience...And then there are the hundreds of letters, fables, and short stories that reveal an extraordinarily gifted and precocious young writer describing how she saw the world - real and imagined, pedestrian and eerie - as the walls closed in on her faith, then her country, then her family, and then her." —The Washington Post