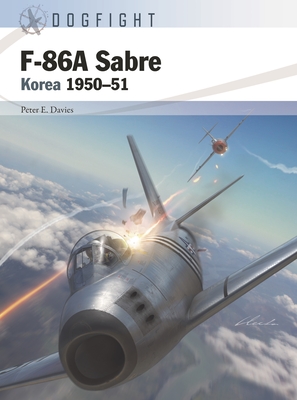 $22.00

Coming Soon - Available for Pre-Order Now
Description
---
Strap in alongside the Sabre pilots as they experienced the world's first large-scale jet-vs-jet combats. Brought to life with innovative tactical artwork and dramatic first-hand accounts from the pilots themselves.

The F-86A Sabre had entered USAF service in 1949, and in December 1950 three squadrons were sent to South Korea. Despite primitive basing conditions and overwhelming Chinese opposition, the Sabre pilots stopped communist air forces from attacking UN ground troops and allowed Allied fighter-bombers to operate without threat of interception. The ensuing air battles between Sabres and MiG-15s were the first since World War II, and the last in recent times to involve large numbers of jet fighters in direct confrontation. In all of them the victorious F-86 pilots demonstrated the superiority of their training and tactics and the outstanding qualities of their Sabres.

Contemporary photographs and specially commissioned artwork, including a dramatic battlescene, armament views, technical diagrams and ribbon diagrams illustrating step-by-step each main dogfight explored in the book, bring the experiences of the Sabre pilots and their battle tactics vividly to life.
About the Author
---
Peter E. Davies has published over 30 books for Osprey. He has specialized in the aircraft of the Vietnam and Cold War periods, analyzing tactics, background politics and technologies in combat situations. Original first-hand interviews and unpublished illustrative material are a hallmark of his work. He has often sought to explore specific military incidents from past conflicts. Peter has also been a contributor to publications such as Aeroplane Monthly, Aviation News and Aircraft Illustrated.

Gareth Hector is a digital artist of international standing as well as an aviation history enthusiast. He lives in Perthshire, UK.

Jim Laurier is a native of New England and lives in New Hampshire. He attended Paier School of Art in Hamden, Connecticut, from 1974–78, and since graduating with Honours, he has been working professionally in the field of Fine Art and Illustration. He has been commissioned to paint for the US Air Force and has aviation paintings on permanent display at the Pentagon.