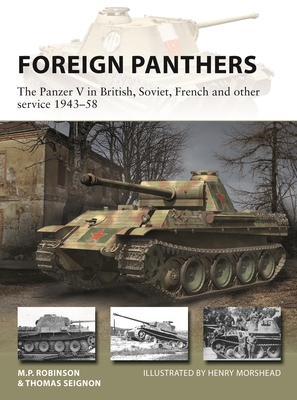 $19.00

Coming Soon - Available for Pre-Order Now
Description
---
The little-known career of Germany's Panther, perhaps the greatest tank of World War II, in foreign hands both during and after the war.

The Panther was arguably the most successful medium tank design of World War II, demonstrated by the number of Germany's enemies that used them after, and even during the war.

While some were used by the Western Allies, the Russians used the greatest number of captured Panthers against Nazi Germany, though they did not find much favor thanks to their mechanical unreliability and difficulty in acquiring spare parts. After the war, they were mostly passed on to satellite states such as Bulgaria and Romania. The French army also used them in significant numbers after the war with approximately 50 in service from 1946 to 1950, and they were a significant influence on future French tank design.
Using detailed artwork and contemporary photographs, this fascinating book tells the little-known story of the Panther tank in foreign hands in World War II and beyond.
About the Author
---
Colonel THOMAS SEIGNON, an active army officer, served in Armor branch from platoon leader to battalion commander. Having a passion for armored vehicles history, he has authored numerous articles plus a couple of books on the subject and is an active member of the French tank museum board and scientific council. He is 56 years old, married and has 3 kids, which does not prevent him from using the train on a weekly basis between the Joint Staff in Paris and his home in Saumur, along the Loire valley.

M.P. ROBINSON is a Canadian author who lives with his wife and 5 children near Toronto, Canada. He has a BA (Hons) History from York University, and has authored or co-authored 15 books and numerous articles on armoured vehicles and armoured warfare. His historical interest in politics and warfare spans from ancient times right up to the present day.

Henry Morshead is the Chief Designer for the Hill HX50 helicopter. He also works in the automotive and bespoke sectors, with clients including BAC Mono and Arrival, and is a STEM Ambassador with the Bloodhound supersonic car project. A former officer in the Royal Engineers and illustrator for Jane's, he maintains a keen interest in the design and use of military land and air vehicles.