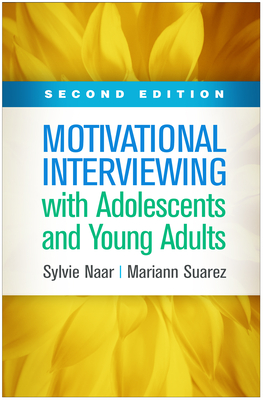 $35.00

NOT IN STOCK - Usually arrives in 7 - 14 business days
Description
---
The significantly revised second edition of this unique practitioner guide features 65% new material and a new organizing structure. The authors show how to use motivational interviewing (MI) to have productive conversations about behavior change with adolescents and young adults in any clinical context. Noted for its clarity, the book includes extended case examples, sample dialogues, quick-reference tables, and "dos and don'ts." It provides vital tools for helping young people open up about their struggles, explore alternatives, and make healthier choices around such concerns as substance use, smoking, anxiety, medication adherence, and obesity.
 
New to This Edition
*More integrative and cohesive: every chapter weaves in diverse clinical issues, replacing the prior edition's population-specific chapters.
*Chapters on MI in groups and involving caregivers in treatment.
*Restructured around the current four-process model of MI, and proposes maintenance of change as a fifth process.
*Incorporates the rapidly growing research base on MI with youth.
*Reflects the ongoing refinement of the authors' training approach; includes skill-building activities at the end of each chapter.

This book is in the Applications of Motivational Interviewing series, edited by Stephen Rollnick, William R. Miller, and Theresa B. Moyers.
 
About the Author
---
Sylvie Naar, PhD, is Distinguished Endowed Professor in the Department of Behavioral Sciences and Social Medicine at the Florida State University (FSU) College of Medicine. She is also Founding Director of FSU's Center for Translational Behavioral Science. She is trained as a pediatric health psychologist and has conducted health disparities research with minority youth since the 1990s. With over 160 publications, Dr. Naar has both clinical and research expertise in behavioral interventions for youth living with HIV, focusing on adherence to medications, adherence to appointments, substance use, and sexual risk. A member of the Motivational Interviewing Network of Trainers (MINT), she has provided numerous trainings to agencies and treatment organizations nationally and internationally, with particular emphasis on MI with adolescents and young adults.

Mariann Suarez, PhD, ABPP, is Associate Professor in the Department of Medical Education at the University of South Florida Health, Morsani College of Medicine. Dr. Suarez is a community–clinical and pediatric psychologist, with specialization in child abuse and neglect and board certification in behavioral and cognitive psychology. She served on the American Board of Behavioral and Cognitive Psychology and publishes on the use of MI in the treatment of substance use problems, neurocognitive developmental issues, and parenting concerns. A member of the Motivational Interviewing Network of Trainers (MINT) for decades, she provides training nationally and internationally, with particular interests in teaching health care and community providers to use MI and evidence-based practices with adolescents and young adults.

Praise For…
---
"Building rapport with teenagers is notoriously difficult, often because adults struggle to understand their perspective and priorities. As someone who regularly teaches courses on counseling adolescents, I have found the ideas in this book absolutely critical in becoming a more effective therapist. I highly recommend this improved second edition, which should be required reading for both graduate students entering the field and veteran clinicians treating adolescents with any variety of problems."--Jeremy Jewell, PhD, Department of Psychology, Southern Illinois University Edwardsville

"With the first edition of this book, Naar and Suarez introduced adolescent mental health professionals to applications of MI with youth. The second edition provides updated evidence that supports MI, along with expanded practical strategies for working with youth struggling with a wide range of concerns in mental health, substance use, and medical settings. Graduate faculty and clinical supervisors will be impressed by the scholarship on every page; trainees will appreciate the practical tools and examples."--Terry Stancin, PhD, ABPP, Chief of Psychology, The MetroHealth System; Professor of Psychiatry, Pediatrics, and Psychological Sciences, Case Western Reserve University

"Filling a critical void, this book answers the call of practitioners and scholars who for years have been asking for a clinical text on how to use MI with youth. Naar and Suarez describe the developmental context and provide many easy-to-read examples of using each MI principle and strategy with adolescents and young adults in diverse settings. The second edition will make an excellent stand-alone text for a course on MI or a great supplemental text for any course on clinical interventions with youth."--Keith Herman, PhD, Missouri Prevention Science Institute, University of Missouri

"Naar and Suarez expertly describe the nuances of applying MI principles to the unique needs and issues of teens and young adults. The second edition incorporates recent research on the importance of fostering change talk and avoiding sustain talk, and includes a thought-provoking chapter on working with caregivers of teens. The authors do an excellent job of explaining MI spirit, skills, processes, and change talk in an accessible, warm, and reader-friendly manner. Chapters include helpful tables, guides, tips, and examples of what is and is not consistent with MI spirit, along with activities that allow clinicians to practice and reflect on each topic area. I recommend this book for graduate-level classes in psychotherapy and child clinical psychology. It would serve as an excellent companion reference to a graduate-level clinical practicum, internship rotation, or postdoctoral fellowship."--Tracy O'Leary Tevyaw, PhD, Clinical Professor of Psychiatry and Human Behavior, Alpert Medical School of Brown University