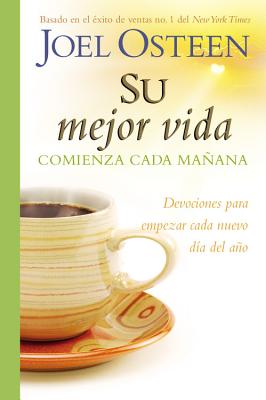 $15.40
Currently Out of Stock - No ETA
Description
---
El renombrado autor número uno del New York Times, Joel Osteen, inspira al lector a comenzar su mejor vida cada mañana con este devocionario de 365 días.

El potencial para vivir su mejor vida comienza con cada nueva mañana. Con cada amanecer, se puede optar por abordar el día con una actitud de fe y esperanza. El autor de éxitos de ventas, Joel Osteen, escribe: "Cuando se levanta por la mañana, lo primero que debe hacer es configurar su mente en la dirección correcta...y luego salir anticipando cosas buenas". Ahora, por primera vez, el pastor Osteen presenta una herramienta para lograr ese objetivo. Basado en su libro, Su mejor vida ahora, él ofrece 365 mensajes diarios como recetas para vivir positivamente cada día. Cada mensaje es acompañado por una escritura pertinente.
About the Author
---
Joel Osteen is the senior pastor of Lakewood Church in Houston, Texas. More than ten million viewers watch his weekly televised services each week in the United States, and millions more in 100 nations around the world. He can also be heard twenty-four hours a day on Joel Osteen Radio SiriusXM channel 128. He is the author of eleven national bestselling books and has been named by numerous publications as one of the most influential Christian leaders in the world. He resides in Houston with his wife, Victoria. You can visit his website at http://www.joelosteen.com.