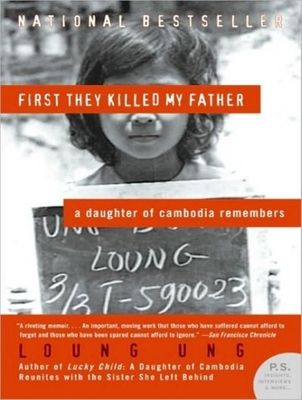 Description
---
One of seven children of a high-ranking government official, Loung Ung lived a privileged life in the Cambodian capital of Phnom Penh until the age of five. Then, in April 1975, Pol Pot's Khmer Rouge army stormed into the city, forcing Ung's family to flee and, eventually, to disperse. Loung was trained as a child soldier in a work camp for orphans, her siblings were sent to labor camps, and those who survived the horrors would not be reunited until the Khmer Rouge was destroyed. Harrowing yet hopeful, Loung's powerful story is an unforgettable account of a family shaken and shattered, yet miraculously sustained by courage and love in the face of unspeakable brutality.
About the Author
---
Loung Ung is a national spokersperson for the Campaign for a Landmine Free World and the author of "Lucky Child: A Daughter of Cambodia Reunites with the Sister She Left Behind."

Tavia Gilbert, a multiple Audie Award nominee and "AudioFile" Earphones and Parent's Choice Award-winning producer, narrator, and writer, has appeared on stage and in film. She has narrated over two hundred multicast and solo voice audiobooks.
Praise For…
---
"Ung's memoir should serve as a reminder that some history is best not left just to historians but to those left standing when the terror ends." ---Booklist Starred Review