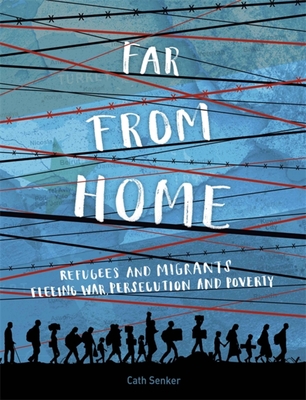 Description
---
A sensitive and accessible account of the refugee crisis facing millions around the world.What if you had to leave your home and you could never go back? What do you think that would be like?For millions of Syrian and Iraqi citizens (and for people from many other nations around the world), these are the question they face. The current, desperate situation in their homelands and the mass migrations from the Middle East is both shocking to us, and sadly nothing new. Far From Home addresses the clear need for a balanced and informative book on this complex topic. It examines the root causes of mass migrations from both a historical and current perspective. Historical sources and first-hand accounts are used to explore racism, religion, life in refugee camps and the challenges migrant and refugees face on arrival in new lands, alongside the response of host countries. The book will also look at the difficult and dangerous journeys people make in an attempt to reach a safe haven and life in refugee camps, with the constant struggle to access shelter, warmth, food, medicine and education.Designed to be accessible to both children and adults, this book is an open and balanced tool for opening discussions around these sensitive issues. For children aged 11+.Author Cath Senker is an expert on writing in this area. She has housed refugees in her own home and is active in helping to provide education to those arriving in Britain.Winner of The Society of Authors ALCS Educational Writers' Award, 2018.
About the Author
---
Cath Senker is a children's non-fiction writer who specialises in writing about modern history, global issues and world religions. Her latest history titles include Living Through the Vietnam War (Raintree, 2011), Our World Divided: Israel and the Middle East (Wayland, 2011) and A Cultural History of Women in America: Women Claim the Vote (Bailey Publishing, 2011). She has a particular interest in the topics of migration, refugees and racism and recently wrote Mapping Global Issues: Immigrants and Refugees (Arcturus, 2011). In her work, Cath aims to highlight individuals' experiences and to present different viewpoints in a non-judgemental way as a basis for discussion.
Cath also works as a project manager and editor on non-fiction titles for both children and adults. Before embarking on a freelance career, she worked as a commissioning editor for a children's educational publishing company for eight years. She is also an experienced ESOL teacher.
Cath volunteers with City Reads, a project that aims to widen the enjoyment of books and reading among people of all ages, especially people from disadvantaged communities. She is a also a keen amateur cyclist, cook and gardener.
Praise For…
---
A very topical subject and one that our children really need to know about ... the book is an open and balanced tool for opening discussions around these sensitive issues, well-illustrated with contemporary illustrations. It helps children and young people to really understand the plight of refugees, encouraging them to think about the situation.—Parents In Touch

If you wondering how to talk to children about refugees I highly recommend this book. - The Godbers Travel blog

An excellent KS3 introduction and analysis of various refugees and migrants fleeing war and poverty, with a particular focus on the current refugee crisis affecting the Middle East.—The School Librarian