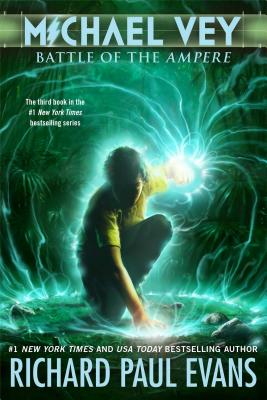 Other Books in Series
This is book number 3 in the Michael Vey series.
Description
---
The hair-raising action continues for Michael Vey in this charged third installment of the #1 New York Times bestselling series.

Michael, Taylor, Ostin and the rest of the Electroclan have destroyed the largest of the Elgen Starxource plants, but now they're scattered across the Amazon jungle. The Elgen have joined forces with the Peruvian army to capture the Electroclan, and only Michael has managed to remain free. With his friends due to stand trial for terrorism—a charge that may carry the death penalty—Michael will need all his wits and his abilities if he's to save them.

Meanwhile, on the other side of the world, Dr. Hatch and his loyal Electric Children have seized control of the E.S. Ampere—the super yacht the Elgen use as their headquarters. With the Elgen fleet now under his control, Hatch heads back to Peru to pick up his army and then begin his quest for global domination.

Michael will have to free his friends then find a way to stop Hatch, but the organization behind the mysterious voice that has guided him to this point has been compromised. Hatch knows Michael and the Electroclan are coming. And he's ready for them.

Can the Electroclan win the battle of the Ampere? Or has Michael's luck finally run out?
About the Author
---
Richard Paul Evans is the #1 bestselling author of The Christmas Box. Each of his more than thirty-five novels has been a New York Times bestseller. There are more than thirty-five million copies of his books in print worldwide, translated into more than twenty-four languages. He is the recipient of numerous awards, including the Romantic Times Reviewers' Choice Award, five Religion Communicators Council Wilbur Awards, and the Volunteers of America National Empathy Award. He lives in Salt Lake City, Utah, with his wife, Keri, and their five children. You can learn more about Richard on Facebook at Facebook.com/RPEFans, or visit his website RichardPaulEvans.com.