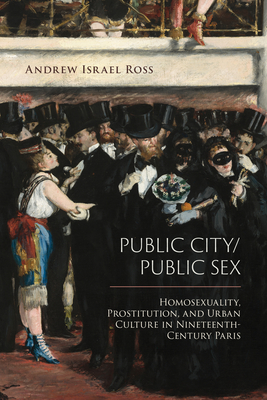 $40.19

NOT IN STOCK - Usually arrives in 7 - 14 business days
Description
---
In the 1800s, urban development efforts modernized Paris and encouraged the creation of brothels, boulevards, cafés, dancehalls, and even public urinals. However, complaints also arose regarding an apparent increase in public sexual activity, and the appearance of "individuals of both sexes with depraved morals" in these spaces. Andrew Israel Ross's illuminating study, Public City/Public Sex, chronicles the tension between the embourgeoisement and democratization of urban culture in nineteenth-century Paris and the commercialization and commodification of a public sexual culture, the emergence of new sex districts, as well as the development of gay and lesbian subcultures. 
Public City/Public Sex examines how the notion that male sexual desire required suitable outlets shaped urban policing and development. Ross traces the struggle to control sex in public and argues that it was the very effort to police the city that created new opportunities for women who sold sex and men who sought sex with other men. Placing public sex at the center of urban history, Ross shows how those who used public spaces played a central role in defining the way the city was understood.
About the Author
---
Andrew Israel Ross is an Assistant Professor of History at Loyola University Maryland.