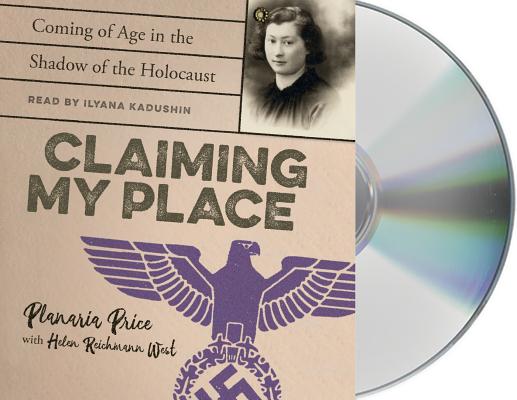 $49.49
Currently Out of Stock - No ETA
Description
---
"[Narrator Ilyana Kadushin] presents a perfectly paced narration and crafts just the right tones for the emotions this serious and inspiring memoir requires." — Booklist

A Junior Library Guild selection
Claiming My Place is the true story of a young Jewish woman who survived the Holocaust by escaping to Nazi Germany and hiding in plain sight.
Meet Barbara Reichmann, once known as Gucia Gomolinska: smart, determined, independent, and steadfast in the face of injustice. A Jew growing up in predominantly Catholic Poland during the 1920s and '30s, Gucia studies hard, makes friends, falls in love, and dreams of a bright future. Her world is turned upside down when Nazis invade Poland and establish the first Jewish ghetto of World War II in her town of Piotrko´w Trybunalski. As the war escalates, Gucia and her family, friends, and neighbors suffer starvation, disease, and worse. She knows her blond hair and fair skin give her an advantage, and eventually she faces a harrowing choice: risk either the uncertain horrors of deportation to a concentration camp, or certain death if she is caught resisting. She decides to hide her identity as a Jew and adopts the gentile name Danuta Barbara Tanska. Barbara, nicknamed Basia, leaves behind everything and everyone she has ever known in order to claim a new life for herself.
Writing in the first person, author Planaria Price brings the immediacy of Barbara's voice to this true account of a young woman whose unlikely survival hinges upon the same determination and defiant spirit already evident in the six-year-old girl we meet as this story begins. The final portion of this narrative, written by Barbara's daughter, Helen Reichmann West, completes Barbara's journey from her immigration to America until her natural, timely death.

This program includes an afterword read by Helen Reichmann West
About the Author
---
After graduating from Berkeley and earning a Master's Degree in English Literature from UCLA, Planaria Price began her career teaching English to adult immigrants in Los Angeles. She has written several textbooks and lectured at numerous conferences. In addition to this, Planaria has worked with her husband to save and restore over 30 Victorian and Craftsman homes in her historic Los Angeles neighborhood. Claiming My Place is her first book for young adults.

Dr. Helen Reichmann West was born in Munich, Germany, the child of stateless Jewish Holocaust survivors. She immigrated to the U.S. as a child and grew up to earn her PhD in psychology. Helen's published work has included research articles in professional journals, essays, memoir pieces, book reviews, and poetry. She also collaborated with author Planaria Price on Claiming My Place: Coming of Age in the Shadow of the Holocaust, the biography of her mother, Barbara Reichmann. She lives with her husband in Washington, DC and Key West, Florida.