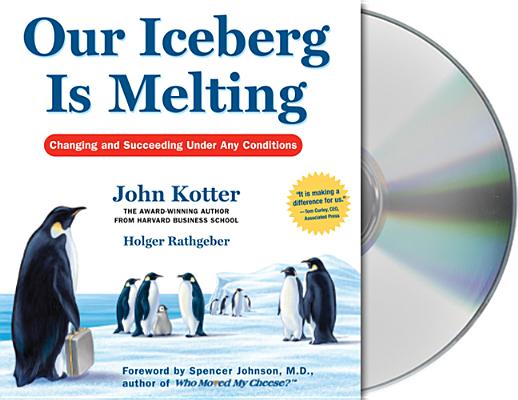 $19.95
Currently Out of Stock - No ETA
Description
---
Most of the denizens of the Antarctic penguin colony sneer at Fred, the quiet but observant scout who detects worrying signs that their home, an iceberg, is melting. Fred must cleverly convince and enlist key players, such as Louis, the head penguin; Alice, the number two bird; the intractable weather expert, NoNo; and a passel of school-age penguins, if he is to save the colony.
Their delightfully told journey illuminates in an unforgettable way how to manage the necessary change that surrounds us all. Simple explanatory material following the fable enhances the lasting value of these lessons. Our Iceberg is Melting is at once charming, accessible and profound a treat for virtually any listener.
About the Author
---
John Kotter has been on the faculty at Harvard Business School since 1972. He is the author of eleven award-winning titles and frequently gives speeches and seminars at Harvard and around the world. He lives in Cambridge, Massachusetts. Holger Rathgeber spent his early professional career in Asia. He has worked in industry since the early 1990s and is now with one of the leading medical technology companies, Bectom Dickinson. Raised in Frankfurt, Germany, Rathgeber currently resides in White Plains, New York.
Praise For…
---
"This is the easiest to read yet most informative book I have ever seen. Setting one of management's biggest challenges, 'what problem, I don't see a problem,' in the context of a melting iceberg and a determined penguin, was a stroke of sheer genius."           
--Michael Dimelow, Director of Product Marketing, TTP Communications
 "I came across Our Iceberg is Melting in May, ordered and distributed 60 copies in June, evaluated its effect on our change effort, and then ordered 500 more copies in September. This is a gem."--Heidi King, Program Manager, Dept. of Defense