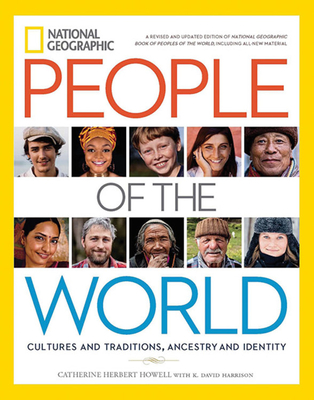 $44.00

NOT IN STOCK - Usually arrives in 7 - 14 business days
About the Author
---
CATHERINE HERBERT HOWELL has conducted field research among urban women in India and among Indian immigrants in New York City. A former National Geographic staff member, she has authored a dozen publications and has contributed to dozens more, including previous editions of Peoples of the World, Wonders of the Ancient World, and the Expeditions Atlas. She was also the editor of Out of Ireland, a companion volume to the PBS documentary. She lives in Arlington, Virginia.

K. DAVID HARRISON is a linguist and anthropologist specializing in endangered languages, and is co-founder of the Living Tongues Institute for Endangered Languages. He has conducted field research in numerous countries where cultures are threatened by globalization. His book The Last Speakers: The Quest to Save the World's Most Endangered Languages explores the consequences of language loss and efforts at revitalization. He lives in Philadelphia and teaches at Swarthmore College.

SPENCER WELLS is a geneticist, anthropologist, author, and entrepreneur. For more than a decade, he was an explorer-in-residence at the National Geographic Society and director of the Genographic Project, which analyzed DNA samples from hundreds of thousands of people to decipher how our ancestors populated the planet. Wells has appeared in numerous documentary films. His fieldwork has taken him to more than 90 countries, and he is the author of three books, The Journey of Man, Deep Ancestry, and Pandora's Seed. He lives in Austin, Texas.