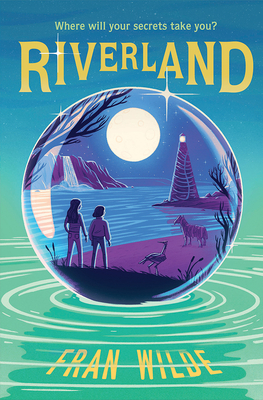 Description
---
Two sisters discover a world of ancient promises in this Nebula Award-winning novel from Fran Wilde

When things go bad at home, sisters Eleanor and Mike hide in a secret place under Eleanor's bed, telling monster stories. Often, it seems those stories and their mother's house magic are all that keep them safe from both busybodies and their dad's temper. But when their father breaks a family heirloom, a glass witch ball, a river suddenly appears beneath the bed, and Eleanor and Mike fall into a world where dreams are born, nightmares struggle to break into the real world, and secrets have big consequences. Full of both adventure and heart, Riverland is a story about the bond between two sisters and how they must make their own magic to protect each other and save the ones they love.

About the Author
---
Fran Wilde's novel include the 2019 Nebula Award-winning middle grade Riverland, which was also a Lodestar finalist and an NPR Favorite Book of 2019. She's also the author of the 2015 Nebula Award-winning Updraft (part of the Bone Universe trilogy). She writes for publications, including The Washington Post, NPR, The New York Times, and Tor.com. Fran lives in Philadelphia with her family and a rescue pup named Luna.
Praise For…
---
**STARRED REVEW**
"A narrative that challenges the stereotypical stories of domestic violence, Riverland is painful and heartwarming all at once . . . A must-read."
— Booklist

**STARRED REVIEW**
"Wilde approaches the difficult subjects of domestic violence and emotional abuse with the care and respectful treatment that they deserve, using the fantastic to symbolize and illuminate the complex emotions her characters experience. About courage and truth overcoming denial and fear, Riverland is an important book."
— Shelf Awareness

"The important topic of physical and emotional abuse in families is sensitively portrayed."
— Kirkus Reviews

"Wilde (Updraft) skillfully blurs the lines of fantasy and reality in a haunting middle grade story of sisters connected through trauma and a shared mythology . . . Beneath the surface of Wilde's fantastical metaphors lies the far more chilling and profound portrayal of domestic abuse and the lengths to which people can go to deny the most painful of truths."
— Publishers Weekly

"Eleanor is a very believable heroine, with faults typical of any middle schooler. In the end she has to solve the problem herself and does so."
— School Library Connection

"Wilde concocts a heartbreakingly anxious story as Eleanor walks on eggshells to protect herself and her sister from their abusive parents . . . The lens of house magic for physical and emotional abuse acts as a buffer, allows the story to avoid a preachy tone while still accurately depicting the hurdles a child in a stifling household must face."
— The Bulletin of the Center for Children's Books