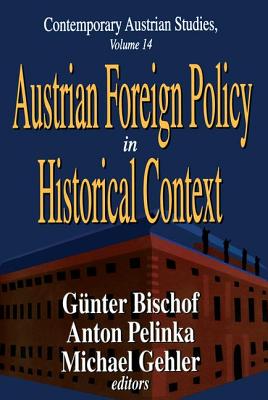 Other Books in Series
This is book number 14 in the Contemporary Austrian Studies series.
Description
---
In 2005, Austria celebrated the sixtieth anniversary of its liberation from the Nazi regime and the fiftieth anniversary of the State Treaty that ended the occupation and returned full sovereignty to the country. This volume of Contemporary Austrian Studies covers foreign policy in the twentieth century. It offers an up-to-date status report of Austria's foreign policy trajectories and diplomatic options.Eva Nowotny, the current Austrian ambassador to the United States, introduces the volume with an analysis of the art and practice of Austrian diplomacy in historical perspective. Ambassador Wolfgang Petritsch analyzes recent Balkans diplomacy as an EU emissary in the Bosnian and Kosovo crises. Historians G nther Kronenbitter, Alexander Lassner, G nter Bischof, Joanna Granville, and Martin Kofler provide historical case studies of pre-and post-World War I and World War II Austrian diplomacy, Austria's dealings with the Hungarian crisis of 1956, and its mediation between Kennedy and Khrushchev in the early 1960s. Political scientists Romain Kirt, Stefan Mayer, and Gunther Hauser analyze small states' foreign policymaking in a globalizing world, Austrian federal states' separate regional policy initiatives abroad and Austria's role vis- -vis current European security initiatives. Michael Gehler periodizes post-World War II Austrian foreign policy regimes and provides a valuable summary of both the available archival and printed diplomatic source collections. A Historiography Roundtable is dedicated to the Austrian Occupation decade. G nter Bischof reports on the state of occupation historiography; Oliver Rathkolb on the historical memory of the occupation; Michael Gehler on the context of the German question; and Wolfgang Mueller and Norman Naimark on Stalin's Cold War and Soviet policies towards Austria during those years. Review essays and book reviews on art theft, anti-Semitism, the Hungarian crisis of 1956, among other topics, complete the volume.