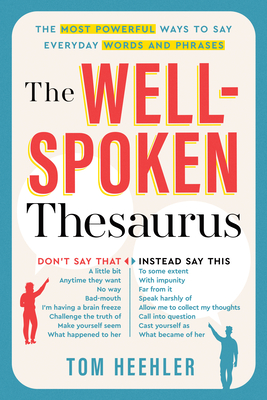 Description
---
The ultimate guide on how to speak eloquently, including 200 well-spoken alternatives to common words and phrases.
If you've ever fumbled while trying to use a big word ('lofty word,' 'pretentious word') to impress a crowd, you know what it's like to ('know what it is to') be poorly spoken. The fear of mispronouncing or misusing complex words is real and leaves many of us consigned to the lower levels ('lower reaches,' 'lower echelons') of the English language.
The secret to eloquence, however, lies in simplicity—the ability to use ordinary words in extraordinary ways.
The Well-Spoken Thesaurus is your guide to eloquence, featuring lessons from some of the most articulate speakers of our past and present. While a common thesaurus provides only synonyms as mere word-for-word equivalents, The Well-Spoken Thesaurus is filled with ('awash in,' 'instilled with,' 'dense with,' 'rich in') dynamic reinventions of standard words and phrases.
Lessons from history's greatest writers and speakers, including:
Margaret Atwood
Barack Obama
T. S. Eliot
Edith Wharton
Martin Luther King, Jr.
Henry James
Barbara Kingsolver
John Steinbeck
The Well-Spoken Thesaurus is the ultimate vocabulary builder for adults seeking to improve their vocabulary and speak better.
About the Author
---
Tom Heehler is a degree student at the Harvard University Extension School and creator of Fluent in Five Languages, the free online language course where students learn to speak four languages simultaneously - French, Italian, Spanish, and Romanian. You can find this novel approach to language acquisition at FreeLanguageCourses.Blogspot.com.
Praise For…
---
"This is your guide to eloquence — replacing ordinary words with extraordinary ones that take your writing to new heights. " — Gotham Writer's Workshop

"A celebration of the spoken word." — Chicago Tribune

"How absolutely fascinating." — The Fayetteville Observer

"In this unconventional, easy-to-use thesaurus, Heehler, a degree student at the Harvard Extension School, invites the reader to speak like an academic without sounding like one." — Book News

"The Well-Spoken Thesaurus is a delightful book for anyone interested in language and the spoken word." — Midge Raymond, Award-winning author of Forgetting English