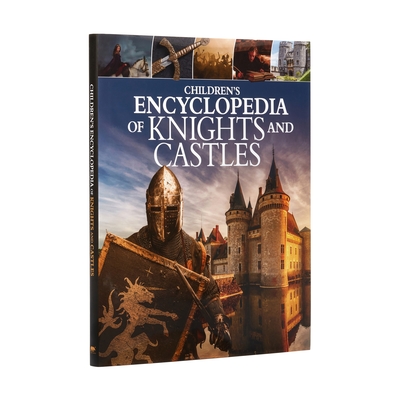 Description
---
What was it like to be a castle resident in the Middle Ages?

Young readers can discover the medieval world - from the rules of jousting to castle construction techniques - with this comprehensive visual encyclopedia. Full of chivalrous facts, informative illustrations, and photographs of important artifacts, this is a definitive guide to everything you ever needed to know about how people lived in the Middle Ages.
Topics include:
- Castles: defense, sieges, daily living.
- Medieval Life: markets and fairs, crafts, medicine, religion.
- Warfare: Knights Templar, weapons and armor, horses.
- Knights: chivalry, training, the Crusades. Brought to life by eye-catching re-enactment photographs, this is a fantastic, fascinating read for children aged 8+.
ABOUT THE SERIES:
Arcturus Children's Reference Library
uses stunning photography, fabulous facts and useful diagrams to introduce a variety of subjects - from the animal kingdom to space. Great to dip into, these reference guides are a staple for any child's bookshelf.
About the Author
---
Sean Sheehan was a teacher before becoming a full-time writer of history books for young readers. He lives in Ireland, where there are many castles which he enjoys visiting, and he has travelled around southern Europe visiting castles built during the time of the Crusades. Patricia Levy is a teacher who has written several books for young readers on historical subjects. In her other role as a travel writer she has visited many of the medieval cathedrals of the British Isles and Europe and enjoys nothing more than prowling around the crypts and side chapels of great cathedrals. Kathy Elgin was born in Lancashire and educated at Queen Mary College, University of London. She has been Head of Publications at the Royal Shakespeare Company, where she wrote and researched their theatre programmes. She has worked as a dance and theatre critic, and has written numerous historical books for children and adults. Saviour Pirotta is an author and playwright living in the seaside town of Scarborough, in the UK. He has written many books for children, ranging from short novels to picture books and historical fiction. He visits schools around the UK and the Middle East sharing his passion for writing with children. Award-winning author Fiona Macdonald studied history at Newnham College, Cambridge. She has taught history to children and adults in schools and universities and has written over 100 history and fiction books for young people. Christopher Gravett is the curator specialising in the arms and armour of the medieval world. He has written over 20 books on medieval subjects both for adults and children. He has also acted as a consultant on film and television projects.