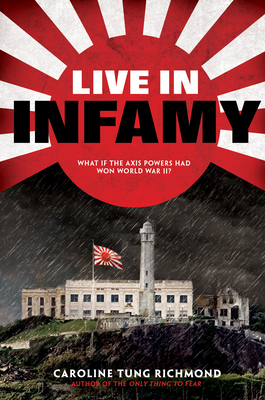 $18.99
Currently Out of Stock - No ETA
Description
---
What if the Axis powers had won World War II?In the eighty years since the Axis powers won World War II with their genetically engineered super soldiers, America has changed drastically in the hands of the unforgiving victors. But there are still those who aspire to what the country used to stand for: freedom for all.In the Western American Territories, Ren Cabot has lost nearly everything to Imperial Japan's rule. After the public execution of his mom for treason five years ago, Ren and his family live under constant scrutiny of the Empire, afraid that one wrong step will rip apart what remains of their family for good. However, when a chance encounter with a resistance group offers Ren an opportunity to save lives and quite possibly topple the government, he agrees to their deadly plot. But his role will lead him straight into the heart of the enemy, and if caught, death would be a much better fate than what the Empire will do to him. . . .
About the Author
---
Caroline Tung Richmond is the author of the alternative history novels The Only Thing to Fear and Live in Infamy, as well as the historical fiction novel The Darkest Hour. She's also the program director of We Need Diverse Books, a nonprofit that seeks to create a world where all children can find themselves on the pages of a book.
A self-proclaimed history nerd and cookie connoisseur, Caroline lives in Maryland with her family and her dog, Otto von Bismarck—named for the German chancellor (naturally). You can find out more about at her at carolinetrichmond.com.
Praise For…
---
Praise for The Only Thing to Fear"Richmond makes an impressive debut with this alternate history . . . She twists history and throws in creative exploitation of superpowers to deliver a fast-paced adventure." --Publishers Weekly "Reminiscent of series like The Hunger Game and Divergent, but the alternative-history angle adds a spark of its own." --Booklist"An outstanding debut that will thrill readers of all ages."--SciFiPulse.net"The Only Thing to Fear can be summed up in two words: realistically frightening. . . . This heart-stopping novel goes to the extremes of what could have been and what may have been done." --TeenReads.com"The plot is fast-paced and will appeal to both historical fiction and science fiction readers." --Library Media Connection Praise for The Darkest Hour"Rife with action and intrigue, this work explores a little-known history of women in World War II. The novel passes the Bechdel test with flying colors . . ." --School Library Journal"Thrills, action, and the moral certainty of fighting Nazis drive this thriller." --Kirkus Reviews

Praise for The Only Thing to Fear"Richmond makes an impressive debut with this alternate history . . . She twists history and throws in creative exploitation of superpowers to deliver a fast-paced adventure." --Publishers Weekly "Reminiscent of series like The Hunger Game and Divergent, but the alternative-history angle adds a spark of its own." --Booklist"An outstanding debut that will thrill readers of all ages."--SciFiPulse.net"The Only Thing to Fear can be summed up in two words: realistically frightening. . . . This heart-stopping novel goes to the extremes of what could have been and what may have been done." --TeenReads.com"The plot is fast-paced and will appeal to both historical fiction and science fiction readers." --Library Media Connection Praise for The Darkest Hour"Rife with action and intrigue, this work explores a little-known history of women in World War II. The novel passes the Bechdel test with flying colors . . ." --School Library Journal"Thrills, action, and the moral certainty of fighting Nazis drive this thriller." --Kirkus Reviews