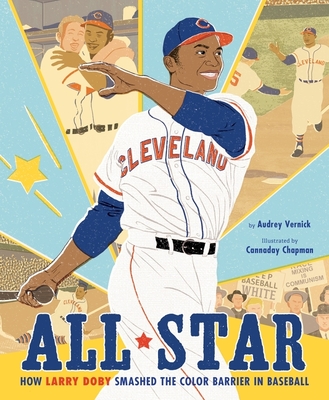 Description
---
The remarkable story of Larry Doby, the first Black baseball player in the American League. 

In 1947, Larry Doby signed with the Cleveland Indians, becoming the first Black player in the American leagues. He endured terrible racism, both from fans and his fellow teammates. Despite this, he became a unifying force on and off the field, and went on to become a seven-time All Star. Illustrated with Cannaday Chapman's bold, stylized illustrations, this exceptional biography tells the story of an unsung hero who not only opened doors for those behind him, but set amazing records during his Hall of Fame career. More significantly, it examines the long fight to overcome racism in sports and our culture at large, a fight that is far from over. 
 
About the Author
---
Audrey Vernick is author of several novels and many picture books, including Brothers at Bat: The True Story of an Amazing All-Brother Baseball Team. She lives with her family near the ocean in New Jersey. Visit her online at audreyvernick.com and on Twitter @yourbuffalo.
Praise For…
---
"Chapman's textured digital art effectively makes use of interesting perspectives to create striking visuals...An important story that we still have a lot to learn from."—Kirkus