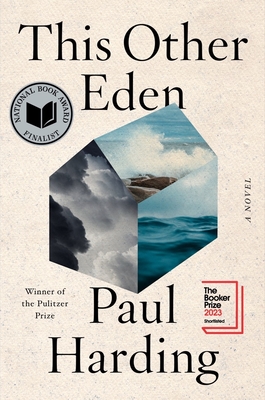 Staff Reviews
---
A tender, exquisitely written portrait of a tiny island civilization near Maine's coast victimized by government officials. Paul Harding's captivating novel is based on the mixed-race fishing community of Malaga Island, settled in the late eighteenth century by a mix of freed slave and white immigrants. Harding celebrates the stamina and ingenuity of the islanders, and the struggles of a young missionary-teacher whose desire to help the islanders is frustrated by the prejudice and ignorance of the mainlanders in power. It is an important story, and Harding privileges it with writing that sings with emotional resonance and descriptive vivacity. This is especially true of the author's depiction of Ethan, a boy with raw artistic talent whose fair skin affords him the opportunity to inhabit the mainland but whose innocence of the world denies the pursuit of his art.
— From
THIS OTHER EDEN (Paul Harding)
Description
---
From the Pulitzer Prize–winning author of Tinkers, a novel inspired by the true story of Malaga Island, an isolated island off the coast of Maine that became one of the first racially integrated towns in the Northeast.
In 1792, formerly enslaved Benjamin Honey and his Irish wife, Patience, discover an island where they can make a life together. Over a century later, the Honeys' descendants and a diverse group of neighbors are desperately poor, isolated, and often hungry, but nevertheless protected from the hostility awaiting them on the mainland.
During the tumultuous summer of 1912, Matthew Diamond, a retired, idealistic but prejudiced schoolteacher-turned-missionary, disrupts the community's fragile balance through his efforts to educate its children. His presence attracts the attention of authorities on the mainland who, under the influence of the eugenics-thinking popular among progressives of the day, decide to forcibly evacuate the island, institutionalize its residents, and develop the island as a vacation destination. Beginning with a hurricane flood reminiscent of the story of Noah's Ark, the novel ends with yet another Ark.
In prose of breathtaking beauty and power, Paul Harding brings to life an unforgettable cast of characters: Iris and Violet McDermott, sisters raising three orphaned Penobscot children; Theophilus and Candace Larks and their brood of vagabond children; the prophetic Zachary Hand to God Proverbs, a Civil War veteran who lives in a hollow tree; and more. A spellbinding story of resistance and survival, This Other Eden is an enduring testament to the struggle to preserve human dignity in the face of intolerance and injustice.
About the Author
---
Paul Harding is the author of the Pulitzer Prize–winning Tinkers, and Enon. He is director of the MFA in Creative Writing & Literature at Stony Brook University, and lives on Long Island, New York.
Praise For…
---
This Other Eden is ultimately a testament of love: love of kin, love of nature, love of art, love of self, love of home. Harding has written a novel out of poetry and sunlight, violent history and tender remembering. The humans he has created are, thankfully, not flattened into props and gimmicks, which sometimes happens when writers work across time and difference; instead they pulse with aliveness, dreamlike but tangible, so real it could make you weep.

— Danez Smith - New York Times

[This Other Eden] is a harrowing tale of paradise lost and a lyrical examination of people in isolation just trying to get by…[It] is a novel that is both devastating and meditative, a combination that is characteristic of Harding's work.

— MJ Franklin - New York Times

[Harding] writes with the gravitas of a mythmaker…The pace of Harding's storytelling is stately, his descriptions, even of small events, gorgeous…This Other Eden is beautiful and agonizing—rather like the real place that inspired it.

— Claire Messud - Harpers

Harding's gifts have found their fullest expression in This Other Eden. Pick any excerpt from these 200 pages and you will find that each sentence contains multitudes and works well by itself, and yet the chapters, the paragraphs, have also been sewn together into a numinous whole…. The novel impresses time and again because of the depth of Harding's sentences, their breathless angelic light.

— Abhrajyoti Chakraborty - The Guardian

Harding, who won a dark-horse Pulitzer Prize for Tinkers, again demonstrates his gifts for concision and compassion in a narrative that balances historical fact with fully drawn characters...Sure to be a standout of 2023.

— Bethanne Patrick - Los Angeles Times

Tender, magical, and haunting, Paul Harding's This Other Eden is that rare novel that makes profound claims on our present age while being, very simply, a graceful performance of language and storytelling. Here is prose that touchingly holds its imagined island community in a light that can only be described as generous and dazzling. I have not read a novel this achingly beautiful in a while, nor one in which the fate of its characters I will not soon forget.

— Major Jackson, author of The Absurd Man

There is no writer alive anything like Paul Harding, and This Other Eden proves it: astonishingly beautiful, humane, strange, interested in philosophy and the heart, stunningly written. It's about home, love, heredity, cruelty, and the very nature of art, so completely original it's hard to know how to describe it in a mere blurb, by which I mean: you must read this book.

— Elizabeth McCracken, author of The Souvenir Museum

In boldly lyrical prose, This Other Eden shows us a once-thriving racial utopia in its final days, at a time when race and science were colliding in chilling ways. In the stories of the Apple Islanders—especially that of Ethan Honey, spared a destructive fate because of his artistic gifts and his fair skin—we are made to confront the ambiguous nature of mercy, the limits of tolerance, and what it means to be truly saved. A luminous, thought-provoking novel.

— Esi Edugyan, author of Washington Black

Harding's third novel revisits an appalling moment in Maine history…a brief book that carries the weight of history. A moving account of community and displacement.
— Kirkus (starred review)

A superb achievement…Harding combines an engrossing plot with deft characterizations and alluring language deeply attuned to nature's artistry. The biblical parallels, which naturally align with the characters' circumstances, add depth, and enhance the universality of the themes…This gorgeously limned portrait about family bonds, the loss of innocence, the insidious effects of racism, and the innate worthiness of individual lives will resonate long afterward.
— Sarah Johnson - Booklist (starred review)

Pulitzer winner Harding (Tinkers) suffuses deep feeling into this understated yet wrenching story…It's a remarkable achievement.

— Publishers Weekly (starred review)