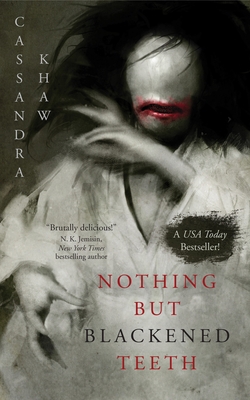 List Price: $14.99
Our Price: $12.99
(Save: $2.00 13%)
November 2021 Indie Next List
---
"This novella is not only scary but unsettling with a pace that will make you want to finish it in one sitting if you dare. The terrifying cover will stay with long after you're through reading this Japanese folklore horror tale."
— Stephanie Csaszar, Books Around the Corner, Gresham, OR
Description
---
A USA TODAY BESTSELLER!
A Bram Stoker, Shirley Jackson, and World Fantasy Award Finalist!
A British Fantasy Award Nominee!
An Indie Next and October LibraryReads Pick!
2022 RUSA Reading List: Horror Winner!
A Most Anticipated Read on Goodreads, Tor.com, Crime Reads, BookRiot, The Nerd Daily, and more.

Cassandra Khaw's Nothing But Blackened Teeth is a gorgeously creepy haunted house tale, steeped in Japanese folklore and full of devastating twists.

A Heian-era mansion stands abandoned, its foundations resting on the bones of a bride and its walls packed with the remains of the girls sacrificed to keep her company.

It's the perfect venue for a group of thrill-seeking friends, brought back together to celebrate a wedding.

A night of food, drinks, and games quickly spirals into a nightmare as secrets get dragged out and relationships are tested.

But the house has secrets too. Lurking in the shadows is the ghost bride with a black smile and a hungry heart.

And she gets lonely down there in the dirt.

Effortlessly turning the classic haunted house story on its head, Nothing but Blackened Teeth is a sharp and devastating exploration of grief, the parasitic nature of relationships, and the consequences of our actions.
About the Author
---
CASSANDRA KHAW is an award-winning game writer, and former scriptwriter at Ubisoft Montreal. Khaw's work can be found in places like Fantasy & Science Fiction, Lightspeed, and Tor.com. Khaw's first original novella, Hammers on Bone, was a British Fantasy award and Locus award finalist, and their novella, Nothing But Blackened Teeth, is published by Nightfire.
Praise For…
---
A USA TODAY BESTSELLER
A Bram Stoker Award Nominee and World Fantasy Award Finalist!
A British Fantasy Award Nominee!
An Indie Next and October LibraryReads Pick!
2022 RUSA Reading List: Horror Winner!
A Most Anticipated Read on Goodreads, Tor.com, Crime Reads, BookRiot, and The Nerd Daily

"Brutally delicious! Khaw is a master of teasing your senses, and then terrorizing them!" —N.K. Jemisin, New York Times bestselling author of The Fifth Season

"A creepy, meticulously-crafted tragedy and frankly, one of the most beautifully written haunted stories I've ever read. As in the best ghost stories, the house is full of ghosts, but it's the people who are the houses….Nothing But Blackened Teeth will linger with you." —NPR

"This is a glorious poem, a slow-motion collapse leading to the inevitable haunting. It is beautiful and it is brutal and it is heartbroken. Absolutely recommended." —Seanan McGuire, New York Times bestselling author of Every Heart a Doorway

"Imagine chucking House on Haunted Hill, Japanese folklore, Clive Barker, and Kathy Acker into a literary blender. Nothing But Blackened Teeth reads like the ghost-punk noir you never knew you needed. It's sharp, playful, and nasty as hell." —Paul Tremblay, author of A Head Full of Ghosts and Survivor Song

"Khaw's prose oozes dread....Horror readers and folklore fans will find this tale of terror to be brutally satisfying." —Publishers Weekly

"Khaw's tale seems to come at you straight, setting up your story expectations, but then twists the knife at the last minute, leaving you reeling, but wanting more." —Richard Kadrey, New York Times bestselling author of the Sandman Slim series

"Khaw's got a sterling premise, enduring lore, and the fresh talent to voice it." —Josh Malerman, New York Times bestselling author of Bird Box

"Delicate and disgusting...Each page holds an image more finely drawn and disturbing than the last." —T. Kingfisher, author of The Twisted Ones

"This book burns and crackles and slithers, its prose as beautiful and deadly as its horror. Cassandra Khaw is a master of the terrifying tale." —Sam J. Miller, Nebula-Award-winning author of Blackfish City

"Reading Cassandra Khaw is akin to watching a nightmare ballet, full of beauty and elegance, pain and fragility, and breathless terror. Nothing but Blackened Teeth is mesmerizing. Don't miss it!" —Christopher Golden, New York Times bestselling author of Ararat and Red Hands

"Intensely atmospheric and unsettling." —The Toronto Star

"Khaw is a prose wizard who has quickly become an auto-buy for me. This story of a wedding at a malevolent manor is as unexpected and delightful as their poetic approach to horror, and I loved every sharp, delicious twist of it." —Kevin Hearne, New York Times bestselling author of the Iron Druid Chronicles

"This is Hill House for this century, this is Belasco House with people we've known since third grade, and it's got a smile so wicked you might just have to grin along with it. I know I did." —Stephen Graham Jones, New York Times bestselling author of The Only Good Indians

"Khaw is always compulsively readable. This was a wonderful haunted-house story, modern characterizations in compelling tension with a lyrically beautiful ancient Japanese residence." —Kij Johnson, winner of the Hugo, Nebula, and World Fantasy Awards

"Readers looking for bite-size horror on a stormy night will appreciate Khaw's twisted tale." —BookPage

"What with poisonous relationships, parasite houses, and ghost brides, Nothing But Blackened Teeth is a really bad idea for a wedding, and a really great idea for a nightmare-on-the-page. This book is so magnificently rotten it writhes with literary maggots, and deserves a place of honor among its peers in horror." —C. S. E. Cooney, World Fantasy Award-winning author of Bone Swans: Stories

"A deft and creepy haunted house story, written in a lyrical style that heightens the disorienting, phantasmagoric nature of the tale. Nothing But Blackened Teeth is the kind of story you lose sleep over." —Brian Evenson, author of Song for the Unraveling of the World

"If Guillermo del Toro directed The Ring, it might play out something like this engaging thriller. Japanese mythological creatures come to life in this dynamic, unique tale that will satisfy horror readers eager for fresh blood." —Booklist

"A feast for the senses. Deeply enriching, twisted, and deliciously dark, the upcoming novella is a definite must-read." —The Nerd Daily

"Engrossing and methodically paced….Recommend to those who love tales of haunted houses with menacing and dangerous histories that reach out from beyond the grave to entrap the living, such as Silvia Moreno-Garcia's Mexican Gothic or David Mitchell's Slade House." —Library Journal