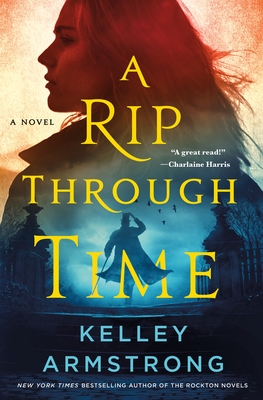 $27.99

Coming Soon - Available for Pre-Order Now
Description
---
"A great read." —Charlaine Harris

In this series debut from New York Times bestselling author Kelley Armstrong, a modern-day homicide detective finds herself in Victorian Scotland—in an unfamiliar body—with a killer on the loose.

May 20, 2019: Homicide detective Mallory is in Edinburgh to be with her dying grandmother. While out on a jog one evening, Mallory hears a woman in distress. She's drawn to an alley, where she is attacked and loses consciousness.

May 20, 1869: Housemaid Catriona Mitchell had been enjoying a half-day off, only to be discovered that night in a lane, where she'd been strangled and left for dead . . . exactly one-hundred-and-fifty years before Mallory was strangled in the same spot.

When Mallory wakes up in Catriona's body in 1869, she must put aside her shock and adjust quickly to the reality: life as a housemaid to an undertaker in Victorian Scotland. She soon discovers that her boss, Dr. Gray, also moonlights as a medical examiner and has just taken on an intriguing case, the strangulation of a young man, similar to the attack on herself. Her only hope is that catching the murderer can lead her back to her modern life . . . before it's too late.

Outlander meets The Alienist in Kelley Armstrong's A Rip Through Time, the first book in this utterly compelling series, mixing romance, mystery, and fantasy with thrilling results.
About the Author
---
Kelley Armstrong graduated with a degree in psychology and then studied computer programming. Now she is a full-time writer and parent, and she lives with her husband and three children in rural Ontario, Canada. She is the author of the Rockton mystery series featuring Detective Casey Duncan, which begins with City of the Lost, and the novel Wherever She Goes. She is the editor of the young adult anthology Life Is Short and Then You Die.
Praise For…
---
Advance Praise for A Rip Through Time

"Armstrong builds an intense, intricately plotted mystery in this series debut." —Library Journal (starred and boxed review)

"[A] clever time-traveling thriller." —Kirkus Reviews

"Readers will eagerly anticipate future installments." —Publishers Weekly

"A promising start to a new series." —Booklist

"When police officer Mallory wakes up wearing a corset, she knows something's gone seriously sideways. Trapped in the body of a Victorian housemaid, Mallory must struggle to keep her secret and find a way home. Watching Mallory--and the talented Kelley Armstrong--juggle all these balls at one time is a great read." —Charlaine Harris, #1 New York Times bestselling author

"Violently original, Kelley Armstrong's A Rip Through Time walks two very different time periods. Mallory handles solving a murder and being a woman in 19th century Scotland with grace and deftness. With compelling characters and plot, A Rip Through Time is one to look out for." —Nekesia Afia, author of Dead Dead Girls

"A fascinating time-slip mystery. Armstrong kept me guessing all the way to the end." —Darcie Wilde, national bestselling author of the Rosalind Thorne mysteries