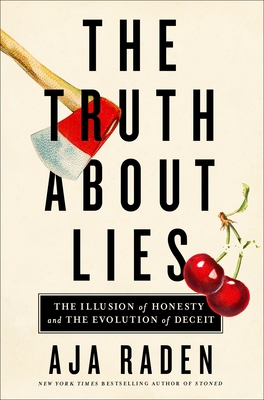 Description
---
Why do you believe what you believe?

You've been lied to. Probably a lot. We're always stunned when we realize we've been deceived. We can't believe we were fooled: What was I thinking? How could I have believed that?

We always wonder why we believed the lie. But have you ever wondered why you believe the truth? People tell you the truth all the time, and you believe them; and if, at some later point, you're confronted with evidence that the story you believed was indeed true, you never wonder why you believed it in the first place. In this incisive and insightful taxonomy of lies and liars, New York Times bestselling author Aja Raden makes the surprising claim that maybe you should.

Buttressed by history, psychology, and science, The Truth About Lies is both an eye-opening primer on con-artistry—from pyramid schemes to shell games, forgery to hoaxes—and also a telescopic view of society through the mechanics of belief: why we lie, why we believe, and how, if at all, the acts differ. Through wild tales of cons and marks, Raden examines not only how lies actually work, but also why they work, from the evolutionary function of deception to what it reveals about our own.

In her previous book, Stoned, Raden asked, "What makes a thing valuable?" In The Truth About Lies, she asks "What makes a thing real?" With cutting wit and a deft touch, Raden untangles the relationship of truth to lie, belief to faith, and deception to propaganda.

The Truth About Lies will change everything you thought you knew about what you know, and whether you ever really know it.
About the Author
---
AJA RADEN studied ancient history and physics at the University of Chicago and, during that time, worked as the Head of the Auction Division at the famed House of Kahn. For over seven years, she worked as the Senior Designer for Los Angeles-based fine jewelry company Tacori. Raden is an experienced jeweler, trained scientist, and well-read historian. Her expertise sits at the intersection of academic history, industry experience, and scientific perspective. She lives in Santa Fe, New Mexico, and is the author of the New York Times bestseller Stoned: Jewelry, Obsession, and How Desire Shapes the World.
Praise For…
---
"Aja Raden's enviable gifts as a storyteller are surpassed only by the depth and breadth of her arcane knowledge. Fascinating and fun, The Truth About Lies could not be more topical. This is a smart, scintillating, tour de force of a book—and that's no lie."
—Greg Olear, author of Dirty Rubles, Fathermucker, and Totally Killer

"Enjoyably witty . . . . Chock-full of quirky anecdotes, this is a fun romp through the tricky world of deception."
—Publishers Weekly