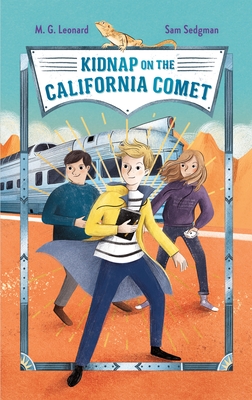 Other Books in Series
This is book number 2 in the Adventures on Trains series.
Description
---
In this second book of the middle-grade Adventures on Trains series, amateur sleuth Hal Beck travels to the U.S. with his uncle to ride a famous train—the California Comet—and stumbles on a new mystery to solve, in M.G. Leonard and Sam Sedgman's Kidnap on the California Comet...

After his adventure on the Highland Falcon, amateur sleuth Hal Beck is excited to embark on another journey with his journalist uncle. This time, they're set to ride the historic California Comet from Chicago to San Francisco.

Hal mostly keeps to himself on the trip, feeling homesick and out of place in America. But he soon finds himself drawn into another mystery when the young daughter of a billionaire tech entrepreneur goes missing!

Along with new friends—spunky 13-year-old Mason and his younger sister, Hadley—Hal races against the clock to find the missing girl before the California Comet reaches its final destination.
About the Author
---
M. G. Leonard is the award winning, bestselling author of the Beetle Boy books, recently optioned for TV. She has a first-class honours degree in English literature and an MA in Shakespeare Studies from Kings College London. She works as a freelance Digital Media Producer for clients such as the National Theatre, and Harry Potter West End, and previously worked as a Senior Digital Producer at the National Theatre, the Royal Opera House and Shakespeare's Globe. She lives in Brighton with her husband and two sons, all of whom are crazy about trains.

Sam Sedgman is a playwright, an award winning digital producer, and coauthor of the Adventures on Trains series with M. G. Leonard. Sedgeman has a first class honors degree from the University of Warwick in English and Creative Writing, and holds a Master's in Text and Performance from RADA and King's College London. He works as a digital project manager for the National Theatre, where he also hosts and co-produces their podcast. He has previously worked as a freelance digital producer for arts and literature organizations across the country, and founded a company creating bespoke murder mystery treasure hunts for adventurous Londoners. His plays have been performed in three countries, and his work has been shortlisted for The Courtyard Theatre Award. He has written articles on culture, technology and free speech for The Guardian, Complex UK and The Space. He grew up with a railway line at the bottom of his garden and has been fascinated by trains ever since.
Praise For…
---
Praise for The Highland Falcon Thief:

"M. G. Leonard and Sam Sedgman bring the classic mystery on a train bang up to date with a carriage-load of wit and suspense." —Ross Welford, author of Time Travelling With a Hamster

"A thrill-ride of a mystery, guaranteed to be one of the most fun, atmospheric page turners of 2020." —Lauren St. John, author of Kat Wolfe Investigates

"A runaway romp of a read." —Piers Torday, author of The Lost Magician

"A fabulous fast-paced ride, packed with clues, illustrations and intrigue." —Bookseller

"Illustrated with lively black-and-white drawings, this well-constructed, fast-paced mystery is the first volume in the Adventures on Trains series." —Booklist

Praise for Beetle Boy:

"Debut novelist Leonard gives readers a rare glimpse into the world of insects, mixing adventure, mystery, and science to create a story that's much more than just a novel about bugs. Even the most squeamish will be charmed." —Publishers Weekly, starred review

"Leonard unravels the madcap plot in sporadic bursts of frenzied action and humor. Overall, a charming and (at times) affecting romp through beetle land." —Kirkus Reviews

"Fans of madcap adventures and anthropomorphised sidekicks will enjoy this fast-paced series opener." —Booklist

"Engaging . . . The story moves quickly, and the characters are both wacky and entertaining." —School Library Journal

"If I didn't already devote most of my waking hours to beetles, reading this book would make me want to . . ." —Max Barclay, Coleoptera Collections Manager, Natural History Museum, London