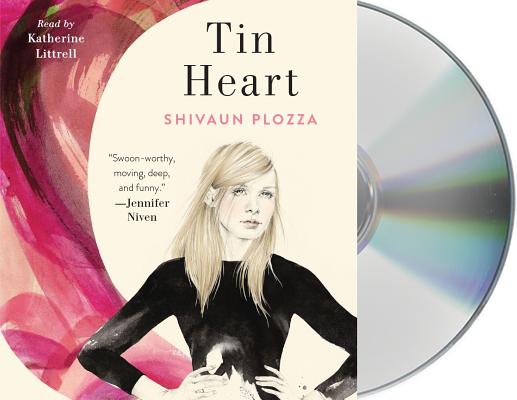 $43.99
Out of Stock Indefinitely
Description
---
"Narrator Katherine Littrell wrests all the humor, angst, and anguish from this first-person account of Australian teen Marlowe Jensen's attempts to adjust to normal life after her heart transplant... Littrell's well-paced, well-modulated tones meld this coming-of-age story into a satisfying listening experience." — AudioFile Magazine

Bestselling author of All the Bright Places Jennifer Niven calls emerging talent Shivaun Plozza's charming and romantic second YA novel, Tin Heart, "from cover to cover swoon-worthy, moving, deep, and funny"!

When Marlowe gets a heart transplant and a second chance at life, all she wants to do is to thank her donor's family. Maybe then she can move on. Maybe then she'll discover who she is if she's no longer The Dying Girl.
But with a little brother who dresses like every day is Halloween, a vegan warrior for a mother, and an all-out war with the hot butcher's apprentice next door, Marlowe's life is already pretty complicated. And her second chance is about to take an unexpected turn...
About the Author
---
Shivaun Plozza is an award-winning Children's and YA writer. Her critically acclaimed debut novel, Frankie, was a CBCA Notable Book, shortlisted for the Inky Awards, Highly Commended at the Victorian Premier's Literary Awards and won the YA category of the Davitt Awards. Her second novel is Tin Heart, which Jennifer Niven called "swoon-worthy, moving, deep, and funny." When she's not writing, Shivaun works as an editor and manuscript assessor. She lives in Melbourne, Australia.
Praise For…
---
"Would you still be the same person if you had someone else's heart? Marlowe Jensen is proof that a borrowed heart can be a big one, and from cover to cover her story is swoon-worthy, moving, deep, and funny. I loved it." —Jennifer Niven, New York Times bestselling author of All the Bright Places
"Tin Heart cements Plozza as a writer with a charming voice and a flair for flawed, loveable characters. Fans of contemporary rom-coms with grit, such as Cath Crowley's Graffiti Moon, will find much to enjoy here." —Jordi Kerr, Books and Publishing
"Apt and poignant...a triumph of wit and awkward pathos, forgiveness and love." —The Australian
"Funny and romantic." —The Melbourne Herald Sun

Praise for Frankie

Winner of the Sisters in Crime Davitt Award (Best YA Crime Novel)
A Victorian Premier's Literary Highly Commended Title
Shortlisted for the CBCA Book of the Year Award
Shortlisted for the 2017 Gold Inky Award
"Readers will love Frankie for her courage, passion, and honesty as a narrator. A powerful debut about a girl learning to love despite the dangers." —ALA Booklist
"An edgy and drily funny novel that dives deep into how forgiveness—especially forgiving oneself—can help a person grow." —Publishers Weekly
"Frankie's first-person narration gives readers a well-rounded picture of a formerly bullied teen from the wrong side of the tracks struggling to make sense of her past and how it affects her present relationships. A gritty and darkly witty debut." —Kirkus

"Frankie's a great, gutsy character, full of heart." —Printz Award winner Melina Marchetta, author of The Jellicoe Road and Saving Francesca
"Frankie will make you laugh till it hurts and then she'll break your heart. Spoiler alert: it may be with a welding gun or the collected works of Shakespeare. But no matter what she throws at you, you'll want to keep rooting her on to the bitter end." —Morris Award Finalist Bonnie-Sue Hitchcock, author of The Smell of Other People's Houses

"Original, and often obscenely funny. I frequently laughed aloud while reading Frankie." —Australian Book Review
"This is a great debut novel from a fantastic new Australian author, Shivaun Plozza. It has everything YA fiction needs to be captivating: mystery, tough women, annoyingly cute bad boys, sarcasm, and humor. Highly recommended." —Readings Monthly