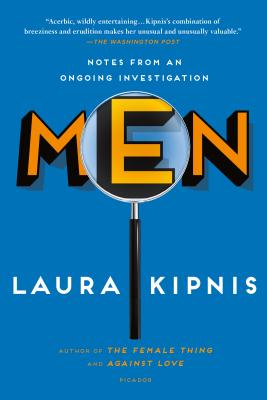 Description
---
"The patriarchal world, through Kipnis's eyes, is consistently and quietly funny . . . Her coolheaded, ironical assessments of modern masculinity read like perfectly timed eye rolls."-The New York Times Book Review

It's no secret that men often behave in confusing ways, but in recent years we've witnessed so many spectacular public displays of male excess--disgraced politicians, erotically desperate professors, fallen sports icons--that we're left to wonder whether something has come unwired in the collective male psyche.

In the essays collected here, Laura Kipnis draws out the angst and emotional contradictions implicit in what look like exercises of male privilege, revisiting the archetypes of wayward masculinity that have captured her imagination over the years, and scrutinizing men who have figured in her own life, alongside more controversial public examples. Slicing through the usual clichés about the differences between the sexes, Kipnis mixes intellectual rigor and wit to give us a compelling survey of the affinities, jealousies, longings, and erotics that structure the male-female bond.
About the Author
---
Laura Kipnis is the author of How to Become a Scandal, Against Love, and The Female Thing. A professor in the Department of Radio/TV/Film at Northwestern University, she has received fellowships from the Guggenheim Foundation, the Rockefeller Foundation, and the NEA. Her writing has appeared in The New York Times, Harper's, Slate, and Bookforum, among others. She lives in New York and Chicago.
Praise For…
---
"Acerbic, wildly entertaining . . . Kipnis's combination of breeziness and erudition makes her unusual and unusually valuable." —The Washington Post

"The patriarchal world, through Kipnis's eyes, is consistently and quietly funny. . . . Her coolheaded, ironical assessments of modern masculinity read like perfectly timed eye rolls." —The New York Times Book Review

"These are times to try the weary feminist reader's patience, when the conversation seems dominated by absolutist twenty-three-year-olds still burning off the righteous indignation of their first women's studies courses. It's a cultural moment that begs for a worldly, ambiguity-friendly thinker like Laura Kipnis. . . . She is a swashbuckling stylist, with a knack for nailing the essence of a remark by means of a canny metaphor. . . . Humor and a kind of rueful empathy for human folly, not outrage, tends to be her go-to response." —Laura Miller, Salon

"There is much fun to be had in experiencing the way that Kipnis follows her topics into unexpected territory, which is not unrelated to her charming inability to be the kind of easily outraged critic the world often seems to want. . . . [An] insightful, intelligent, and frequently hilarious collection." —Bookforum

"A smart collection of weird, funny, and devotedly iconoclastic essays." —Chicago Sun-Times

"Kipnis's gifts are on full display in this irresistible collection of essays, in which she weaves together complex and penetrating insights about gender into provocative treatises.… Kipnis's arguments are never predictable: for example, her chapter on 'juicers,' ostensibly about steroid-abusing male athletes, evolves into a profound soliloquy about writing, plagiarism, and labor markets. Her examination of modern manhood sheds as much light on male vulnerability as it does on male privilege, entitlement, and abuse…. Kipnis has given us a necessary, and often witty, book that shows a brilliant, agile mind at work." —Publishers Weekly (starred review)

"Feisty, unapologetic forays into the messiness of gender relations… rendered in funny, spirited writing." —Kirkus Reviews

"Men is a witty, incisive collection that exhibits just the right balance of empathy and suspicion for its subject. Kipnis is one of our keenest." —Sam Lipsyte, author of The Fun Parts

"Confusion is sex, as Sonic Youth proclaimed, and no one's a better guide to the sexual confusion of the moment than Laura Kipnis. How can anyone so wise and tolerant about sexual politics also be so funny and entertaining? But don't take a man's word for it. Pick up the book." —Benjamin Kunkel, author of Utopia or Bust: A Guide to the Present Crisis

"Laura Kipnis's voice is so intelligent and irreverent, her writing so honest and emotionally as well as intellectually incisive, that I'd gladly read her on any topic--but what she has to say about men, women, sex, and sexism is not to be missed. Whether she is writing about philandering husbands or university sexual harassment codes, she approaches her subject without ideological blinders; her take is invariably fresh, fair and respectful of the messy, imperfect thing we call the human heart." —Adelle Waldman, author The Love Affairs of Nathaniel P.

"What do men want? Laura Kipnis knows. Whether she's aiming her devastating wit at rogues or reprobates, Lotharios or losers (and the women who love them), she's as fiercely intelligent as she is illuminating. When it comes to our ongoing gender wars, few writing today possess her combination of insight and humor. None keep it as fun." —Adam Ross, author of Mr. Peanut