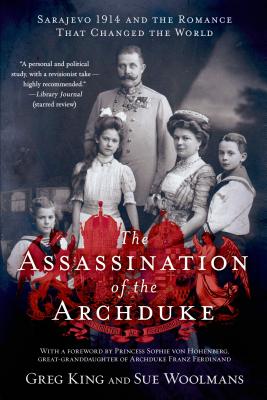 $22.99

NOT IN STOCK - Usually arrives in 7 - 14 business days
(Non-returnable)
Description
---
Drawing on unpublished letters and rare primary sources, King and Woolmans tell the true story behind the tragic romance and brutal assassination that sparked World War I

In the summer of 1914, three great empires dominated Europe: Germany, Russia, and Austria-Hungary. Four years later all had vanished in the chaos of World War I. One event precipitated the conflict, and at its hear was a tragic love story. When Austrian heir Archduke Franz Ferdinand married for love against the wishes of the emperor, he and his wife Sophie were humiliated and shunned, yet they remained devoted to each other and to their children. The two bullets fired in Sarajevo not only ended their love story, but also led to war and a century of conflict.

Set against a backdrop of glittering privilege, The Assassination of the Archduke combines royal history, touching romance, and political murder in a moving portrait of the end of an era. One hundred years after the event, it offers the startling truth behind the Sarajevo assassinations, including Serbian complicity and examines rumors of conspiracy and official negligence. Events in Sarajevo also doomed the couple's children to lives of loss, exile, and the horrors of Nazi concentration camps, their plight echoing the horrors unleashed by their parents' deaths. Challenging a century of myth, The Assassination of the Archduke resonates as a very human story of love destroyed by murder, revolution, and war.
About the Author
---
Greg King is the author of many internationally published works of history, including The Last Voyage of the Andrea Doria. His work has appeared in the Washington Post, Majesty Magazine, Royalty Magazine and Royalty Digest. He lives in the Seattle area.

SUE WOOLMANS is a royal historian and writer whose work has appeared in numerous publications. With Paul Kulikovsky, great-grandson of Tsar Nicholas II's sister Grand Duchess Olga Alexandrovna, she recently edited the Grand Duchess's memoirs, Twenty-Five Chapters of My Life. She is a sound engineer and lives in London.
Praise For…
---
"With the 100th anniversary of this tragedy less than a year away, this personal and political study, with its revisionist take, will be popular with historians and general readers alike and is highly recommended." —Library Journal (starred review)

"An entertaining challenge to a century of misconceptions." —Kirkus Reviews

"Covers the subject so thoroughly and so honestly that this is almost certainly the last book that needs to be written." —Robert K. Massie, author of Nicholas and Alexandra on The Resurrection of the Romanovs

"Wonderfully vivid…a worthy companion to Edvard Radzinsky's The Last Tsar." —Publishers Weekly on The Last Empress