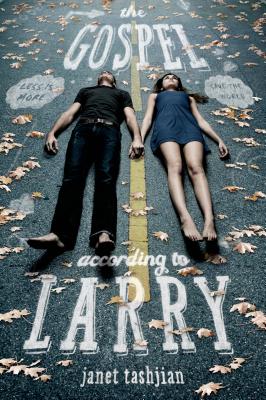 $12.99
Out of Stock Indefinitely
Other Books in Series
This is book number 1 in the The Larry Series series.
Description
---
After creating a controversial and hugely popular website, teenager Josh Swensen becomes trapped inside his brilliant creation and must find a way to remain anonymous.

I am lying on my bed doing my homework in Greek and Latin roots for Advanced English. 'Ped' for foot, 'homo' for man, 'nym' for name. I sit with the dictionary in front of me, coming up with as many words as I can to complete the assignment. Pedestrian, homicide, pseudonym . . . I have more than thirty of them. By accident—that's always how these life-changing things happen—I connect two halves that don't seem like a word until I look it up. 'Pseudo,' false; and 'cide,' to kill = pseudocide. To pretend to kill (yourself).

I stare at the word for a good long time. Homicide, suicide, genocide: these are words you can find in the newspaper every day. But pseudocide . . . now here was something different. My mind wanders from my homework to the blue cotton threads of my bedspread. Pseudocide. A way to start again as someone completely new, a way to burn the old self and try on a new one.

Josh Swensen isn't your average teenager—when he observes America, he sees a powerhouse of consumerism and waste. He's even tried to do something about it, with his controversial start-up website. But when Josh rises to messiah status of the internet world, he discovers that greed and superficiality are not easily escaped. Trapped inside his own creation, Josh feels his only way out is to stage his death and be free of his internet alter-ego, "Larry." But this plan comes with danger, and soon Josh finds himself cut off from the world, with no one to turn to for help. In this suspenseful young adult novel, The Gospel According to Larry, Janet Tashjian has written a probing tour-de-force.
About the Author
---
Janet Tashjian is a middle-grade and young adult novelist who's been writing books for children for over two decades. Her first novel Tru Confessions was made into a critically acclaimed Disney TV movie starring Clara Bryant and Shia LaBeouf. The Gospel According to Larry series is a cult favorite and Fault Line is taught in many middle and high schools. Her bestselling My Life As a Book series is illustrated by her son, Jake. They also collaborated on the Einstein the Class Hamster series.

Janet collaborated with fellow Macmillan author Laurie Keller on the chapter book series Marty Frye, Private Eye. Janet currently lives in Los Angeles and made her new home city the setting of the Sticker Girl series, which details the adventures of Martina who overcomes being shy with the help of her magical stickers that come to life.
Praise For…
---
"* [A] thrilling read, fast-paced with much fast food for thought about our consumer-oriented pop culture. . . .Teenagers will eat this one up." —Kirkus Reviews, starred review

"* Tashjian's gift for portraying bright adolescents with insight and humor reaches near perfection here." —School Library Journal, starred review

"* Tashjian fabricates a cleverly constructed scenario and expertly carries it out to the bittersweet end." —The Horn Book, starred review

"* Very fresh." —Booklist, starred review

"[A] clever wake-up call to the perils of consumerism for the sensitive and passionate teenage generation." —Christian Science Monitor

"An innovative, fast-paced, arresting novel in a teen's voice that you won't forget." —Contra Costa Times

"I'll predict that 99 percent of the teen-agers who read The Gospel According to Larry will love it." —Long Beach Press Telegram

"A surprising and absorbing book." —Cleveland Plain Dealer

"Tashjian skillfully uses humor and provides one of the most honest voices in young adult literature since Steve York and Rob Thomas's." —VOYA

"Humorous. . . .The author gets all the notes just right--the wired adolescent passions, the destructive effects of the media spotlight, and the technology." —Times Picayune

"Tashjian is sure to increase in popularity with the adolescent set." —Book Report

"This is a great, well-written read." —Colorado Independent