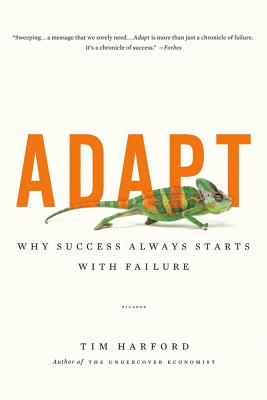 Description
---
In this groundbreaking book, Tim Harford, the Undercover Economist, shows us a new and inspiring approach to solving the most pressing problems in our lives. When faced with complex situations, we have all become accustomed to looking to our leaders to set out a plan of action and blaze a path to success. Harford argues that today's challenges simply cannot be tackled with ready-made solutions and expert opinion; the world has become far too unpredictable and profoundly complex. Instead, we must adapt.

Deftly weaving together psychology, evolutionary biology, anthropology, physics, and economics, along with the compelling story of hard-won lessons learned in the field, Harford makes a passionate case for the importance of adaptive trial and error in tackling issues such as climate change, poverty, and financial crises—as well as in fostering innovation and creativity in our business and personal lives.

Taking us from corporate boardrooms to the deserts of Iraq, Adapt clearly explains the necessary ingredients for turning failure into success. It is a breakthrough handbook for surviving—and prospering— in our complex and ever-shifting world.
About the Author
---
Tim Harford is the Undercover Economist and Dear Economist columnist for the Financial Times. His writing has also appeared in Esquire, Forbes, New York magazine, Wired, The Washington Post, and The New York Times. His books include Adapt, The Undercover Economist and The Logic of Life. Harford presents the popular BBC radio show More or Less and is a visiting fellow at London's Cass Business School. He is the winner of the 2006 Bastiat Prize for economic journalism and the 2010 Royal Statistical Society Award for excellence in journalism.
Praise For…
---
"[Harford] offers a very useful guide for people preparing to live in the world as it really is." —David Brooks, The New York Times

"Brainy . . . Harford has a knack for making complicated ideas sound simple." —James Pressley, Bloomberg News

"Tim Harford's terrific new book urges us to understand profit from our muddling . . . Harford is a gifted writer whose prose courses swiftly and pleasurably. He has assembled a powerful combination of anecdotes and data to make a serious point: companies, governments and people must recognise the limits of their wisdom and embrace the muddling of mankind." —Edward Glaeser, Financial Times

"Harford's case histories are well chosen and artfully told, making the book a delight to read. But its value is greater than that. Strand by strand, it weaves the stories into a philosophical web that is neat, fascinating and brilliant . . . It advances the subject as well as conveying it, drawing intriguing conclusions about how to run companies, armies and research labs." —Matt Ridley, Nature

"One of the best writers who also happens to be an economist." —Stephen Dubner, Freakonomics blog

"This is a brilliant and fascinating book--Harford's range of research is both impressive and inspiring, and his conclusions are provocative. The message about the need to accept failure has important implications, not just for policy making but also for people's professional and personal lives. It should be required reading for anyone serving in government, working at a company, trying to build a career or simply trying to navigate an increasingly complex world." —Gillian Tett, author of Fool's Gold: The Inside Story of J.P. Morgan and How Wall St. Greed Corrupted Its Bold Dream and Created a Financial Catastrophe

"Harford's wide-ranging look at social adaptation is fresh, creative, and timely." —Sheena Iyengar, author of The Art of Choosing

"Adapt is a highly readable, even entertaining, argument against top-down design. It debunks the Soviet-Harvard command-and-control style of planning and approach to economic policies and regulations and vindicates trial and error (particularly the error part) as a means to economic and general progress. Very impressive!" —Nassim N. Taleb, Distinguised Professor of Risk Engineering, NYU-Poly Institute and author of The Black Swan

"Tim Harford has made a compelling and expertly informed case for why we need to embrace risk, failure, and experimentation in order to find great ideas that will change the world. I loved the book." —Dan Ariely, author of Predictably Irrational and The Upside of Irrationality

"Tim Harford could well be Britain's Malcolm Gladwell. An entertaining mix of popular economics and psychology, this excellently written book contains fascinating stories of success and failure that will challenge your assumptions. Insightful and clever." —Alex Bellos, author of Here's Looking at Euclid