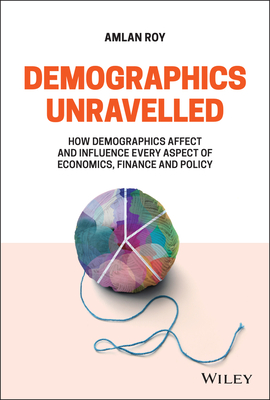 $45.94

NOT IN STOCK - Usually arrives in 7 - 14 business days
Description
---
Discover what demographics can tell us about the economy, markets, and the future
In Demographics Unravelled, renowned Macro-Demographics expert Amlan Roy delivers an insightful and timely exploration of the impact that "people characteristics" have on national economies. Considering factors like gender, race, migrant status, family background, and education, the author delves deeply into a subject that drives market behavior and economic variables, including growth, debt, inflation, employment, and productivity. These have national and international policy implications.
In this one-of-a-kind book, you'll discover:
Why the study of demographics is the hidden key to understanding economic growth, asset prices, and capital flows
How to use detailed demographics to forecast future scenarios in economics, socioeconomics, geopolitics, and the environment
The short-, medium-, and long-term effects of consumer and worker behavior
How understanding demographics is key to understanding health, pensions, migration, sustainability and social policies. It is intimately linked to the Sustainable Development Goals of the UN--Gender, Climate, Poverty and Inequality
Perfect for institutional investors, insurance professionals, economists, and business leaders, Demographics Unravelled will also earn a place in the libraries of academics and students studying a variety of economic disciplines and seeking a one-stop and in-depth discussion of demographics-driven macroeconomic effects.
About the Author
---
AMLAN ROY is a global macro-researcher and recognised public speaker with 35 years of experience across investment banking, investment management and academia. He is the founder of Global Macro Demographics. He was most recently Head of Global Macro Policy Research and Senior MD at State Street Global Advisors (until end-June 2021) and prior to that MD and Global Head of Demographics & Pensions Research at Credit Suisse Investment Bank (1998-2016). His research is in macroeconomics, demographics and retirement, and asset pricing. He is a Research Associate at London School of Economics' Systemic Risk Centre and Honorary Fellow of the Institute and Faculty of Actuaries. He has a BA in Economics (St Stephen's College), MBA (IIM Ahmedabad), MA and PhD (University of Iowa).