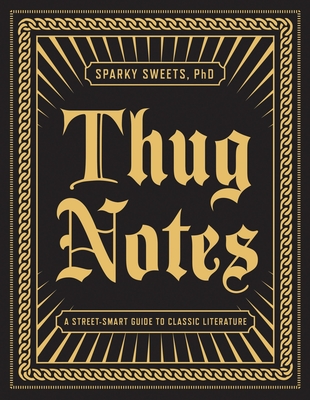 $16.45
Out of Stock Indefinitely
Description
---
Sparky Sweets, PhD, and Wisecrack proudly present this outrageously funny, ultra-sharp guide to literature based on the hit online series, Thug Notes. Inside, you'll find hilarious plot breakdowns and masterful analyses of sixteen of literature's most beloved classics, including: Things Fall Apart, To Kill a Mockingbird, Hamlet, The Catcher in the Rye, Lord of the Flies, Pride and Prejudice, and more!
 
The series Thug Notes has been featured on BET, PBS, and NPR and has been used in hundreds of classrooms around the world. Whether you're a student, teacher, or straight-up literary gangster like Dr. Sweets, Thug Notes has got you covered. You'll certainly never look at literature the same way again.
About the Author
---
Sparky Sweets, PhD is a professor at the school of hard knocks.
Praise For…
---
Praise for the hit YouTube series: 

"A deliciously executed example of the application of street sensibility to high-culture, high-concept areas." —The New York Times

"Move over, Cliff, there's a new Notes-master in town." —The Huffington Post

"If your eyes glaze over in class and your book reports are cribbed from Wikipedia, you might not need summer school . . . you might just need Thug Notes." —MTV 

"Thug Notes is taking wonderful literature and making it understandable, embraceable and making it usable." —PBS-TV, Tavis Smiley 

"Thug Notes delivers the innovation needed in education." —The Tampa Bay Times

"Thug Notes takes literary classics out of the academic ghetto." —The Daily Dot