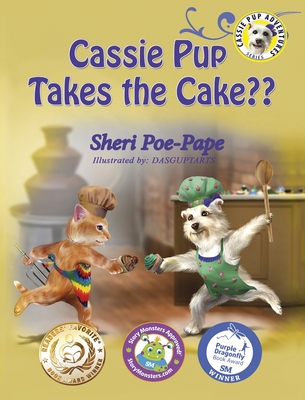 $17.99

NOT IN STOCK - Usually arrives in 7 - 14 business days
Description
---
Cassie Pup sure loves to eat and bake cupcakes. She can't seem to stop baking She loves baking so much she is selected to be adopted and entered into a contest by a baker named Bindi She really loves to be in national cupcake bake-offs like this.
But does Cassie Pup spy a sly competitor in her presence? Will the cupcake bake-off be an honest contest?
Read along to find out
Cassie is a hilarious, aspiring story about the importance of cooperation and truthfulness in all you do, whether you want to do this or not A heartwarming story that helps a child learn to live fairly and smoothly in any life situation.
Bakers of ALL AGES will find this book exciting and humorous. Parents will also appreciate the subtle references to topics, such as:
Fairness
Friendship
Friendly Competition
Creative Thinking
Join Cassie Pup for her second book in her series as she tries to fit into a challenging situation and let the best baker win Get your copy now