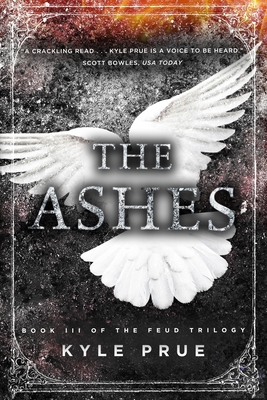 $13.95

NOT IN STOCK - Usually arrives in 7 - 14 business days
(Non-returnable)
Other Books in Series
This is book number 3 in the Feud Trilogy series.
Description
---
His fate has been foretold. Unless he can accept his fortune, his nation will fall to its doom.
Teenage warrior Neil Vapros strives to live up to his destiny. Imprisoned at the hands of the Empire, to return to his family and sweetheart, he's forced to stage a daring breakout. But as he smashes the chains, he uncovers a shocking truth...
On the run and desperate to fight back, his valiant efforts against the rising forces only result in more tragic deaths. And now Neil understands that the only way anyone will live is if he embraces his own demise.
Will Neil pay the ultimate price to prevent freedom's annihilation?
The Ashes is the thrilling conclusion to the award-winning Epic Feud YA fantasy trilogy. If you like edge-of-your-seat action, gripping suspense, and explosive battles, then you'll love Kyle Prue's riveting finale.
Buy
The Ashes
to join the revolution today