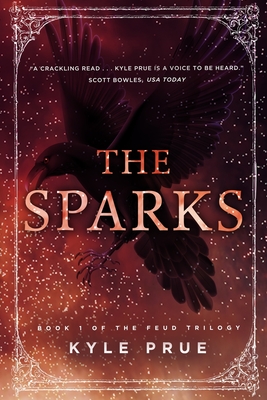 $13.95

NOT IN STOCK - Usually arrives in 7 - 14 business days
(Non-returnable)
Other Books in Series
This is book number 1 in the Feud Trilogy series.
Description
---
One teen assassin-in-training must unite three warring supernatural dynasties before death comes to them all...
"A blistering pace with a gleeful heap of mayhem." Kirkus Reviews
Neil Vapros just wants to make his father proud. The sixteen-year-old aspires to serve his family as an assassin, but he nearly dies in the process. As if that wasn't bad enough, Neil's family, as well as two rival dynasties, have abandoned an ancient promise to protect their city. An unknown evil has begun hunting all three houses from the shadows...
As Neil's relatives fall one-by-one, he attempts to unite the three supernatural families against a common enemy. But earning trust after years of assassination attempts could prove impossible. Neil's fight may involve more than a bloodthirsty empire, as betrayal rears its ugly head...
The Sparks is the first book in the award-winning Feud trilogy of young adult fantasy novels. If you like captivating characters, inventive world building, and supernatural battles, then you'll love Kyle Prue's action-packed coming-of-age tale.
Buy The Sparks today to ignite your thirst for adventure