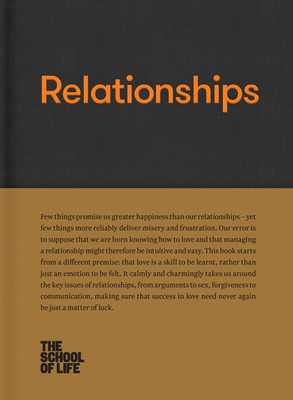 $19.99

NOT IN STOCK - Usually arrives in 7 - 14 business days
Description
---
A fresh approach to matters of the heart, Relationships offers practical skills and new attitudes for a more mature vision of love.
Since around 1750, we have been living in the era of Romanticism, which has shaped the way we approach love, marriage, and sex. When it comes to love, this book argues, Romanticism has been a disaster.
Full of real-life examples, lively humor, and cultural anecdotes, Relationships teaches us:
That love and sex may not always go together (and that's OK)
That discussing money early on, in a serious way, is not a betrayal of love
That acknowledging respective flaws can be a couple's superpower
That we will never find everything we need in another person
That spending two hours discussing whether bathroom towels should be hung up or can be left on the floor has its own dignity
With wisdom, wit, and compassion, this innovative guide paves the way to a new, brighter future for love.
LEARN THE SKILL OF LOVE a refreshing, skills-based take on how to approach relationships.
PRACTICAL RELATIONSHIP ADVICE that challenges many preconceived assumptions.
HARDCOVER WITH RIBBON MARKER beautifully produced, premium gift format.
About the Author
---
The School of Life is a global organization helping people lead more fulfilled lives. Through our range of books, gifts and stationery we aim to prompt more thoughtful natures and help everyone to find fulfillment. The School of Life is a resource for exploring self-knowledge, relationships, work, socializing, finding calm, and enjoying culture through content, community, and conversation. You can find us online, in stores and in welcoming spaces around the world offering classes, events, and one-to-one therapy sessions. The School of Life is a rapidly growing global brand, with over 7 million YouTube subscribers, 389,000 Facebook followers, 174,000 Instagram followers and 166,000 Twitter followers. The School of Life Press brings together the thinking and ideas of the School of Life creative team under the direction of series editor, Alain de Botton. Their books share a coherent, curated message that speaks with one voice: calm, reassuring, and sane.