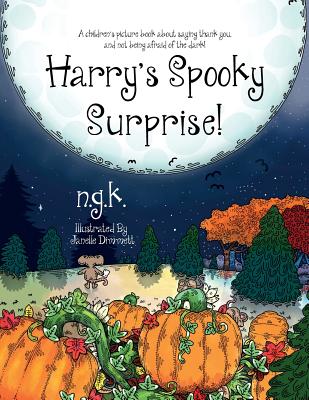 $8.04

NOT IN STOCK - Usually arrives in 7 - 14 business days
(Non-returnable)
Description
---
The third book in the best selling 'Harry The Happy Mouse' series
Harry's Spooky Surprise is set around Halloween. Harry needs to visit his friends at night time to collect items from them for a very special reason Harry learns that there is no reason to be afraid of the dark, and the importance of saying 'Thank You '.
This book teaches the imprortance of saying thank you and not being afraid of the dark
Harry The Happy Mouse (Book 1 in the series) is an international Amazon #1 bestseller, teaching children the value of kindness. Harry The Christmas Mouse (Book 2), which was a #1 bestseller in both the UK and USA, teaches children the value of team work. Harry's Lovely Spring Day teaches children about helping others. All four books have been international number 1 children's eBooks.
Pre-release reviews for Harry's Spooky Surprise:
5 Stars - "A charming story that kids will love" - thedadwebsite.com
5 Stars - "Charming Conveys the importance of friendship and gratitude" - letsplayparents.com
5 Stars - "Sweet character. Sweet story. Sweet surprise " - Author Katharine E. Hamilton
5 Stars - "Fun and spooky - A must have " - www.justbuttonsblog.co.uk
5 Stars - "Sure to be a bedtime favourite" - utterlynovel
5 Stars - "Love the book - sweet, funny and rhyming poems" theelysiangeek.com