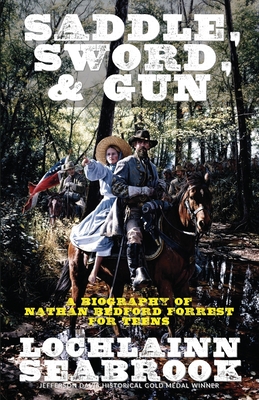 Description
---
In this small but information packed book, Saddle, Sword, and Gun, Forrest scholar and relative Colonel Lochlainn Seabrook takes an inside look at the fascinating life story of Southern hero Confederate General Nathan Bedford Forrest. Written for teens and young adults (ages 13-18), Colonel Seabrook restores the legacy of one of American history's greatest figures - a legacy tarnished by 150 years of Yankee lies, slander, and anti-South propaganda.
Your son or daughter will ride along with Forrest, getting a firsthand look at his childhood in Tennessee, his teens in Mississippi, his marriage and children, his multimillion dollar businesses, the start of the American "Civil War," his enrollment in the Confederate army, and his rise to fame as a daring and successful Rebel officer.
They will thrill to the dramatic descriptions of General Forrest's exploits on and off the battlefield as he and his courageous cavalry (which included sixty-four black Confederate soldiers) fought their way across the South defending hearth, home, honor, and the constitutional right of self-government. In the process they will discover why the General's men loved and respected him, why the Southern people looked up to him as their "Spiritual Comforter," and why he freed his slaves years before Lincoln issued his fake and illegal Emancipation Proclamation.
After Lincoln's War they will follow Forrest as he rebuilt his life from scratch, and helped the South regain her political power and dignity during the Yankees' cruel and vindictive "Reconstruction" period. Finally they will learn how the great Confederate chieftain lived out his last years campaigning for black civil rights and working to heal the physical and emotional wounds left by the War for Southern Independence. Along the way they will be taught the truth about Forrest and Southern slavery and about Lincoln's War on the Constitution and the American people, a truth that has been hidden for a century and a half by uneducated enemies of the South.
Parents, you will enjoy reading this heavily illustrated compact little book as well, for it contains hundreds of important historical facts that neither you or your children were ever taught in school. Colonel Seabrook's sixth book (of nine) on Forrest, Saddle, Sword, and Gun is a significant work that will change hearts and minds regarding one of the most inspirational, gallant, colorful, and riveting figures in world history, a man who to this day is loved by millions of people of all races around the globe: famed Tennessean Nathan Bedford Forrest Available in paperback and hardcover.
Civil War scholar Lochlainn Seabrook, a descendant of the families of Alexander H. Stephens and John S. Mosby, is the most prolific and popular pro-South writer in the world today. Known as the "new Shelby Foote," he is a recipient of the prestigious Jefferson Davis Historical Gold Medal and the author of over 50 books that have introduced hundreds of thousands to the truth about the War for Southern Independence. A seventh-generation Kentuckian of Appalachian heritage and the sixth great-grandson of the Earl of Oxford, Colonel Seabrook has a forty-year background in American and Southern history, and is the author of the international blockbuster Everything You Were Taught About the Civil War is Wrong, Ask a Southerner
His other titles include: Confederate Flag Facts; The Great Yankee Coverup; Everything You Were Taught About American Slavery is Wrong, as a Southerner ; Slavery 101; Confederacy 101; Give This Book to a Yankee; Honest Jeff and Dishonest Abe: A Southern Children's Guide to the Civil War; Women in Gray: A Tribute to the Women Who Supported the Southern Confederacy; and The Quotable Nathan Bedford Forrest.