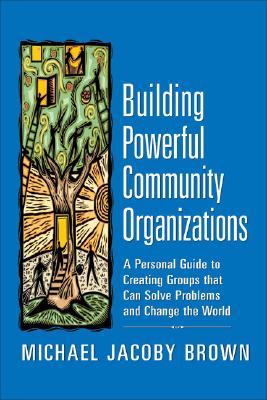 $19.95

NOT IN STOCK - Usually arrives in 7 - 14 business days
Description
---
Intended for individuals who want to start, strengthen, or revitalize a group to address a community issue, this indispensable guide includes a series of practical steps that help build a successful community orgranization and offers sample cases that more clearly illustrate each step. In addition to addressing common problems that are often encountered, the book also discusses how to run engaging meetings, recruit and motivate community members, raise necessary funds, and turn a passion into a powerful tool for social change.
About the Author
---
Michael Jacoby Brown has more than 30 years of experience building community organizations. He has trained hundreds of individuals involved with a variety of nongovernmental organizations who have proceeded to build groups focused on social change. He lives in Arlington, Massachusetts.
Praise For…
---
"Michael Jacoby Brown distills more than 30 years of organizing into his book, which every aspiring and veteran activist should own. This book is strongly recommended." —Library Journal
'At a time when national power is held by the wealthy classes, there is an urgent need, if democracy is to survive, for people to organize in their own communities. For this, Michael Brown is a superb guide. His book is full of thoughtful, practical advice for community organizers, and indeed for anyone who wants to participate at the grass roots in making ours a more just society." —Howard Zinn, author,
A People's History of the United States
"Clearly relevant to precinct organizing and political campaigns." —Michael S. Dukakis, former governor of Massachusetts
"Covers all the organizing principles and methods and also breaks out 25 specific written exercises people can do."
—Social Policy
"This no-nonsense, user-friendly guidebook is replete with sound organizing advice . . . the book's nicely illustrated, jargon-free, pragmatic, and skilled pedagogical format makes it a wonderful textbook for teaching community organizing." —
Journal of Community Practice"A practical, much-needed skills-building manual for a wide range of readers. Beginners will find a broad guide to the work. Veterans will find critical points of reflection, evaluation and re-orientation."
—National Organizers Alliance Ark Magazine