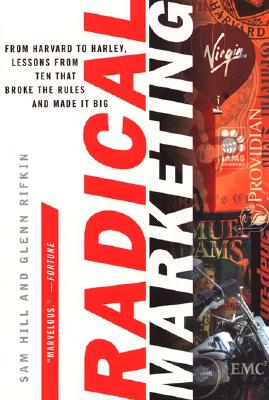 $16.49
Out of Stock Indefinitely
Description
---
How did the Grateful Dead use its fanatical following to build a $100 millionbrand that still thrives today? How did upstart Boston Beer Company—makers of Sam Adams—prevail over rival Anheuser-Busch without an advertising budget? And how did lams create the premium pet food market and leap from $16 million to $600 million in sales in just fifteen years, while charging twice the price of competitor Ralston-Purina? The answer: radical marketing.
In this fresh, provocative book, Sam Hill and Glenn Rifkin identify the mar-keting strategies that have enabled ten innovative companies to emerge asindustry leaders. What do these organizations have in common? Each is intune emotionally with its customer base, allowing them to glean superior marketing insight without spending millions of dollars. Each is more focused on the big picture—growth and expansion—rather than short-term profits. And,despite their current success, each started out with little more than a passion for their product. Engrossing, informative, and invaluable, Radical Marketing demonstrates how any company, large or small, can achieve unprecedented success through inventive and revolutionary tactics.
About the Author
---
Sam Hill is cofounder of the Helios Consulting Group, which helps top management solve complex marketing problems. With almost twenty years' experience working on marketing issues for leading corporations around the world, he was previously a partner with and Chief Marketing Officer of Booz-Allen & Hamilton and Vice-Chairman of DMB&B, a top twenty global advertising agency. His work has appeared in the Harvard Business Review, Strategy & Business, Fortune, and the Financial Times. He lives with his wife and two children in Winnetka, Illinois.
Glenn Rifkin is a veteran business journalist who has written extensively for the New York Times. He is the co-author of The Ultimate Entrepreneur: The Story of Ken Olsen and Digital Equipment Corporation and has also contributed to the Harvard Business Review, Fast Company, the Boston Globe, Forbes, ASAP, and Strategy & Business. He is currently a senior editor with Knowledge Universe Publishing. He lives with his son in Acton, Massachusetts.