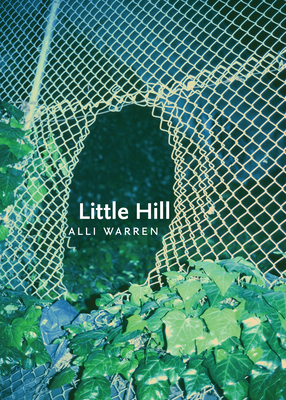 Description
---
Award-winning poet explores new formal terrain in seven long poems against the violence of the present political moment.
" Warren] has begun writing longer poems, putting her stamp on a running notational mode whose other practitioners include Stephanie Young, Anselm Berrigan, and Jacqueline Waters. I think you can hear the durational projects, the self-conscious day-scores, of Bernadette Mayer and of Lewis Warsh farther back in the tradition."--Brian Blanchfield, pen.org
The third full-length collection from Bay Area poet Alli Warren, Little Hill comprises seven long poems written with propulsive prosody in a daybook fashion, examining our present, politically charged moment. These poems are at once energetic and contemplative, intimate and direct, as Warren focuses her attention on capitalism, gender, love, inequality, and resistance. Despite the dystopian now, Warren finds promise in the smallest human instances of tenderness, ecological connection, and political solidarity. Little Hill is about learning to live and love in the 21st century while not shying away from all there is to struggle against.
Praise for Little Hill
"In Little Hill Alli Warren's principle method is articulation of exquisite units of speech (thought) that, maintaining separation, are capable of connection. The line might be a sentence or a part of one ... I mean a delicious sense of grammatical distinctness is maintained. The poet, also a lone unit, seems to exist less in relation than as that lone one, condemning this hard world with its villain work and elusive hierarchies. The language is precise, lush, unexpected and often thrilling. Articulation would seem to be the true other, or maybe nature is. The book is gift more than condemnation, though as the latter it's unsparing. Still, it's a gift."--Alice Notley, author of For the Ride and Benediction
"The number of gasps and everything else gets lost in the concentration of Little Hill. Alli Warren keeps company with those rare poets whose every new book is their best. 'This is an old machine with a pulley / It makes music work, ' Warren writes, reworking the ancient technology of poetry to a shine Dear Poet, thank you for the wow WOW wowing "--CAConrad, author of While Standing in Line for Death
"Reading Alli Warren's Little Hill, I find it incredible that amidst the relentless circulation of capital and commodities--and despite attempts to make all life yield to the logics of extraction, work, accumulation, and the entrepreneurial self--a remainder is created, that of poetry. Little Hill embodies a poetics of radical uncertainty, one that attends to its horrific condition of possibility and is produced through the unmooring catastrophes that define our present moment: the destruction of the earth, mass imprisonment, late-capitalism--the litany does not end there. 'I saw the death of the earth in a child's toy, ' she writes. Everywhere the speaker looks there is 'congealed shit, sometimes on sale.' Yet yearning, even as it is raised tentatively, is not crushed. In and against it all, a question is raised--the question of what it means to love in times of terror."--Jackie Wang, author of Carceral Capitalism
About the Author
---
Alli Warren published her Poetry Center Book Award-winning debut, Here Come the Warm Jets, with City Lights in 2013. She is also the author of I Love It Though (Nightboat Books, 2017), as well as numerous chapbooks. She has edited the literary magazine Dreamboat, co-curated the (New) Reading Series at 21 Grand, co-edited the Poetic Labor Project, and contributed to SFMOMA's Open Space. Her writing has appeared in numerous publications, including Harpers, Poetry, The Brooklyn Rail, and BOMB. She has lived and worked in the Bay Area since 2005.